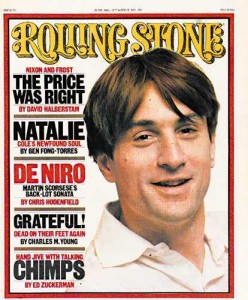 Rita Coolidge is trying to break her family out of the movies
Los Angeles – Seven years and five solo albums later, Rita Coolidge is still regarded by many as the lithe, half-Cherokee backup singer who managed to survive Joe Cocker's legendary Mad Dogs and Englishmen torture tour. "We knew it would be legendary when we were on it," she reflects. "Tours aren't like that anymore."
Coolidge, now 32, isn't like that anymore, either. Her own career is continuing with a new album, Anytime…Anywhere, but she no longer cares for the full-time desperation of the Struggling L.A. Songstress. It's more important, she says, to be the mother of her three-year-old daughter Casey and the wife of her husband, Kris Kristofferson. That, Rita Coolidge says needlessly, is a career in itself.
Right now she's trying to cope with the fallout from her husband's most recent films. "Just yesterday this interviewer didn't even know I made records," she says. "All he wanted to know about was Kris' love scenes with Sarah Miles in The Sailor Who Fell From Grace with the Sea. He asked me if I had any anecdotes." Coolidge suddenly turns steely. "I said no. A lot of people want to see us fall on our ass."
"It's depressing. I'm trying to stay above it… and it gets you anyway. If they don't find anything, they make up lies. I'm not the martyr I've been played up to be. I don't stay home and hold Kris' hand. I like to be with him when he's home, take care of him, share my life with him, but it's all give and take. I take as much as he does."
"People come all the way from Nashville to California just to play Kris their songs…" Sitting in the quiet, insulated living room of their home high in the Malibu hills, Coolidge gestures out the window to the iron gate. "They sit on that buzzer out there all day long. They think by privacy, you mean everybody but them."
In the four years that Kristofferson and Coolidge have been married, and the two years of living together before that, Kristofferson has gone through an extraordinary change. In '72, he was the critics' favorite, the original outlaw/poet laureate of the new C&W. Kristofferson had become one of the world's biggest film stars, cobilled with Barbra Streisand in A Star Is Born. Yet when his newest album, Surreal Thing, was released on the heels of Star's huge success, it slipped by unnoticed (save for a slew of bad reviews).
"It really hurt him a lot," admits Rita, surprisingly anxious to jump to her husband's defense. "As he has grown musically, people were not able to accept any kind of change. They want a whole album of 'Help Me Make It through the Night.' It's been real hard.
"I know when the Star Is Born album when platinum he was happy," she continues, "but he couldn't be thrilled about it. He said, "If somebody hands me a Surreal Thing that's platinum, then I'm gonna get excited.'"
Coolidge is tired of fielding the notion, as perpetrated by a well-publicized, bridge-burning piece in New West and New York by director Frank Pierson, that Kristofferson was playing himself in A Star Is Born. "I think," she says passionately, "it's the first film he's not been himself in. When I saw that film I was amazed. I believed everything he did. But it was not him. Frank Pierson's story was an unethical betrayal of confidence. But worse that that, it was inaccurate. It presented an image of Kris that had nothing to do with Kris. It seemed obvious to me that any stranger could read that article and tell that the man [Pierson] was wounded. He was so bitter from working with Barbara."
Coolidge dismisses the reports of extreme friction between Streisand and her husband. "Kris is really a self-made person as far as acting goes," she explains. "He's never studied acting, he just learns from other people. He's had directors who've helped him and he's had directors that have offered him no help at all. I think Barbra was terrific with him in this last film because she is such a driven woman. She just strives so much for perfection, or whatever perfection is in her eyes, that she settled for nothing less. And that's a good merit to work off of."
But Rita observes that movie work tended to divert Kris from his original purpose. "First of all, he's a writer," she says. "Sometimes I see him getting bogged down in his films and I kind of see the light go out. I can see his doubt that he's gonna get to do music again. It'd break his heart, just like it would mine, if he thought he'd never play music again. I think he could really give up films quicker; music is really his main love. He's just been so successful at films that it would've been real easy for him to be a movie star."
Such close exposure to the upper echelon of the film industry, Rita says, has only made her own commitment to music (she has been singing since age ten) stronger. "It makes me want to sing twice as much," she says in calm, even tones. "I don't care at all about doing films." (The next day, however, she and Kristofferson would fly to London and later Rome for A Star Is Born premieres. "Gala nights," she smirks.)
Coolidge spent many painstaking months honing Anytime…Anywhere. After numerous solo disappointments of her own, she now appears to be on the crest of her first hit LP, spurred by the success of her remake single of Jackie Wilson's "Higher and Higher." "I'd heard of those last-minute things," she remembers. She had heard Booker T. (of MGs glory and also her sister Priscilla's husband) play the song "and it floored me. So I went into the studio and cut that with his arrangement. There's a lot of him in there… that's why I did it."
Coolidge is excited about taking the Anytime…Anywhere material on the road soon in a joint tour with Kris Kristofferson. They will both play solo sets and then get together for a few duets. "I know we've toured together before, but this will be different," she assures me. She explains that Kristofferson, in a dramatic life change, has stopped drinking. "It was sad 'cause he had to fight himself so hard. And he was destructive. Just doing films without drinking has been such an eye-opener for him. The acceptance is something he feels is genuine now. He can't wait to get out there and play again. Neither can I.
"To be able to work with somebody that you love, that you're married to, there's nothing like it. It's the greatest thrill of all." Rita Coolidge smiles to herself. "As long as I have my own career together."
Courtesy of Rolling Stone #241 – Cameron Crowe – June 16, 1977