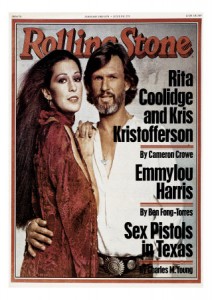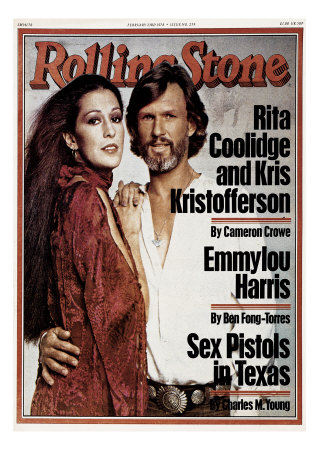 Michelle Phillips' world turns
Los Angeles – Michelle Phillips once was the timid and stage fright-ridden fourth member of the Mamas and the Papas. But now, ten years later, she is the only one of the four still in the public eye. A leading lady in films (Valentino, Dillinger) and television (Aspen), she has returned to music with her first solo album, Victim of Romance. But that doesn't mean she's leaving movies behind. "I always say, if I had to choose between the two fields, I'd choose to do musicals," she declares. "But I hate musicals."
Phillips uncorks a bottle of white wine and settles herself in front of a winter fire. A modest stereo is tuned to a classical station. Her four-room Beverly Hills walk-up is clearly a far cry from the Bel Air mansion she shared with husband John Phillips during the Mamas and the Papas heyday. "I always believed I would make it on my own," she says, "but I got scared a lot of time after the group broke up…about whether I would really be able to support myself. Frightening prospect. I mean I never learned how to type. It took a long time to gear myself back down to a more reasonable lifestyle."
A native of Los Angeles, the former Michelle Gilliam was raised by her father, variously a merchant seaman, a postal worker and probation officer. When her mother died, Michelle and her father traveled to Mexico. She attended school there for five years, and then returned here to a difficult school situation. "I didn't feel comfortable with American children," Michelle says. "I certainly knew more about sex and drugs by the time I was eleven than they would ever know. My father used to ask me when I was thirteen if I needed a diaphragm. I said, 'No, Dad, really, I'm still a virgin.' He said, 'you let me know when you're not.'"
In her senior year of high school Michelle met John Phillips, then leader of the folk group called the Journeymen. Later, she and John joined Danny Doherty and Cass Elliott to create what would become one of the most popular American groups in the mid-Sixties, the Mamas and the Papas. During this period, Michelle and John were married.
"I have wonderful memories of the group. I never worried about anything because John was navigating the ship," Michelle says. "Outside the small nucleus of my life, I was afraid to talk to other men." She takes a thoughtful sip of wine. "I was terribly insulated."
After the Mamas and the Papas and the Phillipses' marriage fell apart in 1969, Michelle decided she wanted to act. Her first role was a bit part in Peru for Dennis Hopper's The Last Movie. Phillips and Hopper fell in love and even married for a brief eight days while filming in the Andes.
Later Michelle began dating a largely unknown actor named Jack Nicholson, who convinced her to enroll in acting class. She kept at the lessons for years and for a long time received only fanzine publicity for the men in her life, particularly Nicholson and Warren Beatty. "It's amazing," she says. "These days everyone I date becomes a fictitious Relationship. People that read these things take them very seriously. They really believe I'm this femme fatale. I know that Warren and Jack are highly visible men, but if you're going to allow the fan magazines to dictate your life, you might as well call in with the stories yourself."
Michelle glances at her watch and realizes she must dash off to a nearby movie theater to pick up Chynna, her daughter by John Philips, and Phillips' younger child (by Genevieve Waite), Tamerlane. Outside the theater, the kids hop inside her Mercedes Benz and it is immediately obvious that Michelle's telepathic relationship with Chynna, one of those scarily sophisticated ten year olds, is not unlike the one Michelle must have had with her father. (Chynna and Michelle have traveled around the world together.) "Doing an interview, Mom?" Chynna observes with ultimate cool. 'Want me to go to the park for a while?"
It was, in fact, Chynna's positive reaction to the completed Victim of Romance that first relieved Michelle's insecurities about her first album. "I didn't do it earlier because I never felt secure enough as a vocalist," Michelle says. "I'm good, but Cass was always better." On the advice of A&M Chairman Jerry Moss, she worked with producer/arranger Jack Nitzche, who has lent his skills to everyone from the early Stones to latter-day Barbara Streisand and Mink de Ville. "I learned so much," Michelle says. "I was involved in every aspect, from mixing to putting together the package and cover myself. That's why the record was so satisfying. Now I really want to make more albums."
These days, happily, she is quite busy: a mother, a songwriter, a script reader and an actress preparing for a new project called Chicago Girl, which will costar Robert Duvall.
"I have to block out time to be with my daughter…and to spend time with the men I want to be with. I have always been busy, but it hasn't always been the kind of work that's been really rewarding.
"I like what's happening to me now in every way. When you're twenty, you handle it a lot differently than when you're thirty – and I'm thirty-three. I was naive enough to think it would be easy to get here. It wasn't."
The classical music is crashing dramatically now, and Michelle Phillips stops herself to address the stereo. "Well, okay," she laughs, "it wasn't all that traumatic."
Courtesy of Rolling Stone #259 – Cameron Crowe – February 23, 1978