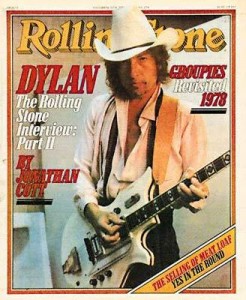 A tour on a grand scale
Getting into Neil Young's bizarre act
New York – The sign – CRAZY NEIL – has hung outside Neil Young's dressing room for several tours now. Down the hall it's YOUNG HORSE. Almost ten years after "Cinnamon Girl," Neil Young and Crazy Horse are back on the road with a show like no other in rock & roll.
Young has always denounced the impersonal feel of big halls, so as a partial solution he's changed the scale for this tour. The set is a huge bandstand complete with oversized amps, man-sized glass of water, four-foot harmonica and a towering "microphone" – all erected in front of the audience by scurrying, hooded figures with gleaming red eyes.
The houselights dim and we hear Jimi Hendrix' Woodstock version of "Star Spangled Banner" over the sound system, then the Beatles' "A Day in the Life." Suddenly Neil Young bolts up from atop one of the massive amps where he has been "sleeping." Picking up a guitar and singing by way of a wireless mike, he wanders childlike around the surreal bandstand playing acoustic songs spanning his entire career, from "I Am a Child" to "Comes a Time." He crawls back into a sleeping bag and the "road-eyes," as he calls them, prepare for an electric set with Crazy Horse.
While the equipment is being set up, the sound system booms announcements from the stage at Woodstock (remember "There's some brown acid out there that is not specifically…too good"). The fully scripted show has the unmistakable feel of a dreamlike retrospective of Young's last twelve years.
I catch up with the always elusive Young in the lobby of his New York hotel:
"Neil," I say, "for the first time you seem to be tying together onstage all the directions of your career into a kind of futuristic/nostalgic statement."
"Can't find a newspaper in this town," he says.
"Music is changing and, in fact, you appear to be changing with it."
"Too bad about the pope, isn't it?"
I try again backstage at Madison Square Garden, just after his second sold-out performance:
"Neil," I venture, "this show would surprise anybody expecting the old laid-back image."
"The songs all fit a certain mood. Frank, Billy and Ralphy [Crazy Horse] are playing really great."
The next night at Nassau Coliseum: "Neil, the playing of stage announcements from Woodstock…."
"I have an idea for the show," he says. "It's a parody of when I used to wait for everyone to be quiet before playing. Well, just as the show is about to start, this popcorn vendor is making all this noise toward the front of the stage: 'Hey, get your popcorn.' The stage announcer comes out and says that Neil Young won't come out until everybody is quiet and that vendor leaves. But the vendor doesn't leave, he makes more noise. The kids start getting pissed off, then the vendor jumps onstage." Young laughs. "I am the vendor."
"Incredible," I say. "But the concept of this show and the road-eyes…?"
"Want some participatory journalism? You're going to work tonight. Larry, Jeannie…fix him up."
My transformation into road-eye takes several minutes. Young enthusiastically explains the duties: as a road-eye I can do anything as long as I crouch and move with "urgent fervor." For the second half of the set I am to change into an elderly professor, the free-roaming assistant to Doctor Deaf (coproducer David Briggs). This way, I can take notes in character.
Wandering around onstage during a performance is an education. You hear deafening, echoing applause, but it's impossible to see the audience, save for the first seven rows. Those rows are all too clear. You can see the guy and his date trying to light a roach, acid casualties fluttering their hands, guards goosing young girls who've rushed the stage and mesmerized faces wondering exactly what Neil is up to this time. Young, grinning as if he's finally at home onstage with his assortment of road-eyes, doctors and professors swirling around, has never played with so much passion.
The month-long tour will be captured in Young's upcoming movie, Human Highway – which is a good thing because it shouldn't go unrecorded. In the warm words of a fellow road-eye, as we were erecting the giant microphone in front of 16,000 screaming fans, "He's the only guy I would wear this goddamn hood for…he's the only guy that would ask."
Courtesy of Rolling Stone #278 – Cameron Crowe – November 16, 1978