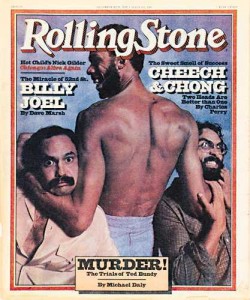 Nicolette Larson's time has come
Neil Young's harmonizer
"IT'S FUNNY HOW I fell into this," says Nicolette Larson. "I loved to sing. I always sang the harmony parts to songs on the radio, never just sang alone. My mother used to say, 'Uh, Nicolette… you're not singing the song.'"
Now Nicolette Larson, 26, is one of the most in-demand harmony and background singers in Los Angeles, appearing on albums by Gary Stewart, Jesse Colin Young, Commander Cody and Emmylou Harris. Her most prominent vocal work is on Neil Young's new album, Comes a Time, and the experience so bolstered her confidence that she recorded an album of her own, Nicolette. In an interesting twist of fate, the release of Comes a Time was delayed a year, and both albums came out on the same day in late September.
"All of a sudden, I guess it's 'What's a Nicolette?'" she offers blithely, sitting in her West Hollywood apartment. A compact and often gregarious woman, Larson thinks nothing of the fact that four years ago she left her home in Kansas City and the comfort of a nine-to-five job to pursue a music career on the West Coast. "I wanted to be a musician, something different than a secretary or waitress. Kansas City wasn't the place."
Leaving the University of Missouri after three semesters, Larson turned her entire savings of $800 into traveler's checks and eventually settled in San Francisco. She found a job at a record store in Berkeley and began moonlighting at various Bay Area bars. "I was awful," she says of her early appearances. "I could carry a tune, but I just couldn't use a mike, couldn't play a tambourine. The band would do a turnaround and I didn't know what was going on."
Her trooper's spirit won her many friends, though, among them Hoyt Axton, who hired her as an accompanist for his 1975 tour with Joan Baez. On the road, Nicolette quickly learned how to perform and to pace herself. Next she joined Commander Cody's first post-Lost Planet Airmen configuration. "Cody is much more of a talker than a singer," she recalls. "So he would let me sing lead on a few songs every night." By then Nicolette was shimmying and dancing onstage, and gaining the attention of both audiences and reviewers.
"When they started talking to me about record contracts," she says, "I was pleasant, but I thought, 'I'm not ready. I'll fall. Nobody wants you when you've fallen.' Plus, I worried that I wasn't unique enough: 'I sound like Emmylou' or 'I sound like Bonnie Raitt.' I just figured my own style would evolve naturally."
Larson's voice is impressively well defined on Nicolette. As the album moves through its diverse influences, from traditional country to rock, she responds with alternately demure and gale-forced vocals. She credits her friend Linda Ronstadt with the inspiration. "Linda is a brilliant singer," says Nicolette. "Diminished seventh, augmented ninth, she can sing it. In a second. When I first met her, I thought, 'This is like the ditchdigger who's friends with the guy who owns the company.' But it was so natural we immediately started singing together. I'd call her, and she'd say, 'Come over, let's sing.' And we would, for hours and hours, just sitting around her house."
Linda and Nicolette were doing just that one evening when Ronstadt got a call from Neil Young, a Malibu neighbor, looking for a female vocal accompanist. Ronstadt mentioned Nicolette to Young, who had already been given Larson's name three times that day. He promptly came over with guitar in hand.
"I didn't know much about Neil Young," remembers Larson. "But we went over and sat by the fireplace and Neil ran down all the songs he had just written, about twenty of them. We sang harmonies with him and he was jazzed."
A week later Young invited Larson and Ronstadt up to his northern California ranch/studio to re-create the same vocal mix for his American Stars and Bars album. "We [Neil and Crazy Horse] worked out the songs in a room of his house," says Larson. "And just when we had the songs down, Neil said, 'Thanks a lot… we've got the album.' He was recording all the rehearsals secretly in another room."
Larson didn't hear from Young until six months later, when he summoned her to Nashville where he was beginning Comes a Time. Young wanted her to front a twenty-two-piece studio band with him – dubbed the Gone with the Wind Orchestra. "He told me to sing whatever I wanted," says Larson. "You can hear me trying to work the parts out on the album."
Larson's impressive vocal work on Comes a Time led to a contract with Warner Bros. and an affiliation with staff producer Ted Templeman (Van Halen, Doobie Brothers, Little Feat). She is surprised at how pleased she is with the album, which was recorded in L.A. with help from keyboardist Billy Payne and guitarist Paul Barrere of Little Feat and such studio standouts as drummer Rick Scholsser, bassist Bob Glaub and guitarist Herb Pederson.
"It's always a shaky endeavor, your first album," Larson says. "I've seen so many singers spend forty hours trying to get three lines. I totally trusted Templeman and Donn Landee [the engineer]. They dealt so well with my nervousness. I was always going, 'Where's all the pain? Where's the suffering?'" In fact, most of her vocals were sung live with the band. And between breaks, she would zip off around the block on her roller skates. (It was Nicolette who introduced Ronstadt to her first pair.)
Now she is hoping that the initially heavy airplay of Nicolette will translate into commercial success so she can afford a few live shows with the musicians who played on the album. "That's where my first check goes," she says, "not for a new car."
She eyes a freshly delivered box of her albums sent by Warner Bros. and reflects on the distance she has come since being a Kansas City Kelly Girl just four years ago. "I was a great secretary," she says, "and I was a good waitress. But whenever I would check out rock singers on TV, I thought they had the fabulous life. Jumping on a stage, the lights, the singing, the gettin' down and making records. I thought, 'That has got to be fun.' And I was right. It is."
Courtesy of Rolling Stone #280 – Cameron Crowe – December 14, 1978