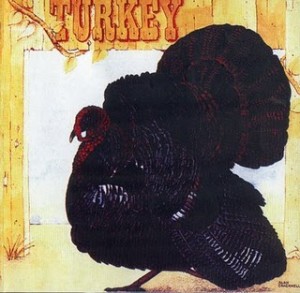 Wild Turkey – Turkey
Turkey, following on the heels of Wild Turkey's engaging debut album fails to offer any indication of a distinctive style for the band boasting former Jethro Tull bassist Glenn Cornick as their leader.
The creative success of Battle Hymn, released earlier this year, rested heavily on the evidence of tasteful and proficient approaches toward a myriad of styles ranging from folk to heavy metal. The newest release continues the same diverse format where it should display a particular musical image to set it off from the scads of other bands fighting for recognition.
The fault lies not in the musicianship. Cornick wisely steers his band away from being a bass-oriented one. The arrangements are full and the instrumentation potent…the fatal flaw being the choice of material. Vocalist John Pickford-Hopkins couldn't avoid his Rod Stewart imitation in "Ballad of Chuck Stallion and the Mustangs". The band's pianist reveals his deep love for "Layla" by including a direct cop in "Eternal Mother". While material as such is healthy within the confines of a first album…a follow-up album chock full of unoriginal methods of attack can only lead to non-recognition.
"Good Old Days", the huge single hit in England these days, provides for a mere glimpse of satisfaction. Pickford-Hopkins' vocals are for once a true and fresh delight set off against a backdrop of the thin, yet crisp lead-guitar work of Tweke Lewis.
All in all, however, it is a sad case indeed to find a band as talented as Wild Turkey stoop to the levels of pud bands found every Friday night in high school gyms throughout the country.
Courtesy of the Door (aka San Diego Door) – Cameron Crowe –  November 4, 1972  – November 18, 1972