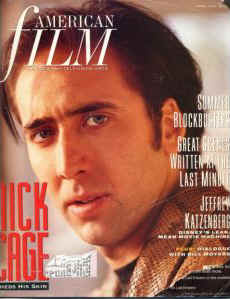 Save Our Script
The scene isn't working, the meter is running, the producer is blowing his top. Could somebody please...
"My favorite scene in the book (Fast Times at Ridgemont High) is a fantasy where Jeff Spicoli is dreaming he's on The Tonight Show singing 'Highway to Hell.' So when I first wrote the script, I included the scene with Johnny Carson. When we were casting the movie, we sent the script to Johnny Carson and, of course, he immediately turned it down.
"I had been on The Merv Griffin Show promoting the book, and Merv Griffin seemed like a fan of the project. So I rewrote the scene and sent it to Merv, with Merv-isms built into it. Merv thinks about it for a few days, turns it down. Now, we're getting close to making the movie, and I still want the scene in, so I rewrite it again… for Tom Snyder. Spicoli's on the Tomorrow Show set, with the dark background. He's a more subdued, late-night Jeff Spicoli, but he still sings 'Highway to Hell.'
"So Tom Snyder reads it, and he's thinking about it. We're not getting an answer out of Tom Snyder, so I called his office. "It's about seven o'clock New York time, and Tom Snyder answers his own phone. It just happens to be the day they've decided to can the show. He says, Yes, he's read it, it's funny, but frankly, he's at a crossroads in his career, he doesn't know what he's going to do next, but right now he's gonna go downstairs and have a drink. He's sorry, but he can't do the scene.
"David Letterman is now on TV, and I'm thinking, This is a funny show. This is great. So I rewrote the scene for the Letterman show. We sent it to him, and his lawyer calls us back and says, David Letterman loves the scene, but I, his lawyer, will not allow him to be in a movie where drugs are used. So, as much as he would like to be in your movie, he cannot.
"At this point, we figure it's fated not to happen, so the scene is cut from the script.
"When Amy Heckerling [the director] put together a rough cut of the movie, we realized that the character of Spicoli was really clicking – even more than anyone realized on the set, where most people thought no one outside California would get it. But Spicoli was only onscreen for a few minutes, and we're all kind of moping about the fact that this fantasy scene never got in. At this point, I remember thinking, How can we get anybody to interview Spicoli?
"It turns out Stu Nahan, a local sportscaster, is available and will do it. So we call Sean Penn in Chicago, where he's already doing Bad Boys, and he's available to come back the next day to shoot the scene. So all I know is that he's going to have girls with bikinis around him, and it's gonna be a sports interview.
"The next morning, the morning they're gonna shoot it, I get up extra early and write it – one draft, right off the top of my head. I rush in with the pages, show them to [producer] Art Linson and Amy, and they say it looks fine. It's so rushed that Sean doesn't have time to learn the scene, so they put the scene on big cue cards. I loved the idea of some old studio guy writing out the lines THOSE GUYS ARE FAGS and IT'S A WAY OF SAYING, 'HEY BUD, LET'S PARTY' on cue cards. Sean put on a wig and aced the scene with Stu Nahan, and I asked for the cue cards, which are now framed in my bathroom.
"That scene ended up being the movie poster, and 'Hey bud, let's party,' was the one-line for the ad campaign. But to this day, I'm a little sad that Sean Penn never got to sing 'Highway to Hell.'"
Courtesy of American Film – Cameron Crowe – June, 1990