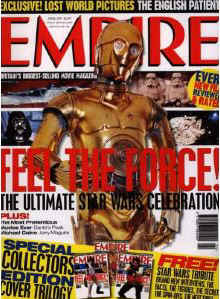 Cruising at Attitude
With the brilliant Jerry Maguire, Cameron Crowe has gone from Rolling Stone hack-cum-hip young director of Singles to A-list general. Fast Times, indeed. Jeff Dawson meets the man who will win Tom Cruise an Oscar. Probably.
In a hotel room way, way, way above the little ants scuttling up and down 57th Street doing their last minute Christmas shopping, Tom Cruise is going through his smarmy PR shtick.
"Honestly and optimism," he goes. "Honesty and courage are frightening to people," he says, droning on about modern businessmen who compromise themselves again and again in pursuit of the Yankee dollar. His eyes twinkle, he smiles his patent Colgate smile, he does his professional best to provide a little bit of seasonal warmth – especially hard in the face of some mind-numbing questions from a dreary American hack who's dredging for pointless psychological analysis.
But the main problem is that Tom Cruise is not actually here – in soul, yes, but in body, no – his presence at the all-star Manhattan press junket to promote his new film, Jerry Maguire, relegated to an appearance on a special video, copies of which are handed solemnly to journalists by members of the Columbia TriStar PR staff: "You interview with Tom".
You can't blame Cruise. The last time he bothered, a bunch of ignorant Krauts at Bunte magazine wrote some libellous guff about him and it all got rather sticky. Besides, he doesn't need to – his virtual inactivity in promoting Mission: Impossible didn't exactly harm that movie. Within a month, Jerry Maguire too, will be sailing past the $100 million mark at the US box office.
However, in the increasingly regulated world of film media, where big-wig publicists call the shots and writers are spoon-fed insipid soundbites by tutored actors, getting your Q & A on videocassette represents a bleak new dawn. Mail order journalism. Some day all interviews will be this way.
"Man, I know how frustrating it can be," concurs director Cameron Crowe, skipper of the might Cruise vehicle. "I think it's unfortunate. The days where there were fewer publications and you could go on the road with somebody and spend more than just time in a hotel room… I miss 'em."
Crowe should know what he's talking about. His movie career may go back to 1982 when he adapted his own cult book Fast Times at Ridgemont High for the screen; he may, too, have won plaudits for directing/writing the angstful romantic comedies Say Anything… and Singles – but it's all really a Second Coming, given that he started out as the wunderkind scribe of Rolling Stone.
A boyish 39, with a friendly face and disarmingly honest demeanour, Crowe doesn't look like the kind of ultra-hip bloke who hung out with Zeppelin, Dylan, Bowie, Clapton and The Eagles, but he did – bunking off school in his native San Diego to cover local gigs and then taken onboard Rolling Stone at the tender age of 16 to become one of the foremost chroniclers of rock's most decadent age.
"To see them in all those situations," he enthuses, "and to be with them at two in the morning, when the canned speeches disappear and it's (Puts on mournful drunk voice) 'What is my life about?'… Click" (Mimes the eager switching on of a tape recorder). "I never felt I couldn't write a lot of stuff that I saw. It was, 'Okay, your moral judgement on me I invite'."
The sex was surely summarised, the drugs duly detailed. It was only rock 'n' roll, but he liked it…
Today, in America, there is a new rock 'n' roll. It is called sport. Fast and flash, loud and brash, its stars are not only as big as their musical counterparts, but have the attitude to go with it. Hardly a day goes by without a green-haired Dennis Rodman booting a courtside photographer; members of the Dallas Cowboys involved in yet another cocaine-and-hookers-on-eve-of-big game scandal; or arrogant jocks everywhere failing dope tests like it was a requisite part of spring training.
You think Cruise or Carrey get paid a lot of money? That's nothing. This season basketball icon Shaquille O'Neal – a cross-eyed, seven foot four inch lummox who last season missed two thirds of his free throws – signed for the LA Lakers for a personal fee of $120 million. In 1996, both O'Neal and the even richer Michael Jordan both starred in the movies, too.
Yet you can't really blame the greed. In careers that are over by the mid-30s, or can snuffed out by a late tackle, there is only a limited window of opportunity for athletes to rake in the cash – to be "shown the money" to use Cruise's co-star Cuba Gooding, Jr.'s mantra – most of which comes, not from salaries, but from product endorsement.
"When they make these big deals with Reebok or whatever, that's where they're really making money and it was always interesting to me," says Crowe. "It was always a wilder situation than in the music business or the movie business, I think, because they're really young guys with not a lot of protection. There's a team publicist but they don't have individual publicists, so the agent becomes the manager, father figure, confessor, publicist, everything – and, you know, it's pretty cut-throat."
Jerry Maguire (Tom Cruise) is such a person, the all-embracing, overlord, although when this particular shark stops swimming for a moment and loses his job at a top agency, he is forced to reinvent himself as a philanthropic freelancer, staking his shirt on his one remaining, unfashionable football client, Arizona Cardinals wide receiver Rod Tidwell (the Oscar-worthy Gooding, Jr.). Dealing as it does with the insane enterprise culture of the US, Jerry Maguire is a far denser subject matter than anything else Crowe has tackled so far.
"I wanted to tell the story of a guy who learned how to be a better version of himself," he explains. "I searched around for different worlds I might set the story in and I fell into sports. I did try rock for a while but sports just seemed like it hadn't been done in that way."
And thus we have it, the first movie in history that portrays an agent in a favourable light…
Crowe took four years to write Jerry Maguire, spending a good deal of time hanging out with the legendary American sports agent Leigh Steinberg and tagging along at football games much in the same way that he used to track bands in the old days. Still classing himself as a rookie filmmaker and somewhat dissatisfied with his earlier film efforts, particularly his grunge-era Seattle comedy Singles ("it left a weird feeling"), he also began a sort of self-education programme, boning up on the works of the masters, particularly Billy Wilder, whose success in capturing "that bittersweet romantic feeling" was something he wanted to use in this flick.
Unfortunately, the actor for whom Crowe was building his piece was becoming increasingly inappropriate.
"It was originally written for Tom Hanks," he explains. "I took so long doing the script that Hanks was no longer a 35-year-old man. By the time he got it he was almost 40 and had two Academy Awards and wanted to direct."
That Cruise was not the first choice is something of a surprise, for if anything, Jerry Maguire is the quintessential Tom Cruise movie. With a Golden Globe for his efforts already, it is also, quite probably his best – sporty, fast and with all those little trademarks that The Cruiser has been employing since Risky Business: kicking the wall in a fit of pique; running in slow motion (through an airport); lip-synching to some American AOR; doing his hackneyed "drunk" routine; and, more importantly, putting on/taking off his sunglasses more times than anyone else in the history of motion pictures.
"My perception if him was kind of what you hear," says Crowe, who does normally wash with the Hollywood soft soap. "A hard working guy who's totally driven. What I learned is that he's also very thoughtful sometimes, an insecure guy, and he does kind of wonder what would happen if all this success disappeared, all that stuff which I think attracted him to the script."
Cruise, he says, more than accomplished his tasks – dutifully reading opposite the million-and-one aspirants for the sought-after part of Dorothy, his onscreen love interest, all the way through to advising Crowe, who is still mindful of having no theatrical training.
"It's great, especially when you see him audition with other actors. They come in and they expect a corporation or something, like Motorola, and they see a guy who's got the script saying, 'Yeah, let's tear right into it,' and you see their perceptions change a little bit. Sometimes you see the actors leave the room and it's like, 'Nice to meet you. No, I mean really, you're a real guy, that was cool…'"
If it wasn't a superstar like Cruise either, would we really buy in to the central romance, which is pretty much a case of an unknown Cinderella (played by unknown Cinderella Renee Zellweger) falling for an unattainable flash boy – someone like, say, Tom Cruise? Probably not.
"That kind of sad, melancholy sweet thing, I'm still addicted to it. It ends up in almost everything I write," says Crowe, harking back to Fast Times, written originally in 1979 when he'd gone back for a belated stint at high school and had his heart broken by a girl.
"I was down in San Diego being the woeful me, I guess, listening to Todd Rundgren," he laughs. "There was a kind of happy/sad thing about the book that didn't quite make it into the movie. I was so into the heartbreak of all these characters, like the poor guy that came too fast with the girl and he still has to go to school with her, uuggh. Those things which happen early in your life become what you draw on. It's just like a pop song for me, I still relate to it like that."
And which is why those personal music markers are everywhere. Indeed, none other than Mrs. Crowe (Heart guitarist Nancy Wilson, sitting patiently on the bed across the room) has scribbled the film tune, and check out, too, a certain Glenn Fry as Cardinals manager Dennis Wilburn.
"I used to write about The Eagles for Rolling Stone. He was always the lean, angry Eagle and then he became this golfing, athlete jock guy," laughs Crowe. "It's still a surprise to me to be directing," he muses. "It still feels like an extension of writing, and writing scripts feels like an extension of rock journalism for me, so in a way just getting published in Rolling Stone was like my first big dream."
In an amusing postscript which shows just how much Crowe has bottled the American Zeitgeist with this movie, shortly after the film came out, 70s basketball legend Kareem Abdul Jabar, devout Muslim, Islamic spokesman and public decryer of the use of alcohol, was called to task by Islamic leaders for starring in – get this – a Coors beer TV commercial.
Then, in January, came a bizarre coda to the film itself – Reebok slapped Sony (Columbia/TriStar's owners) with a $10 million lawsuit. In the ultimate piece of product placement, Reebok had filmed a real ad as the film's finale, intended as a means of demonstrating that Maguire's client had, finally, made the big time – but Crowe nixed the footage as unsatisfactory artistically, and the ad was never used. Now all that remains of Reebok's image is a line in the corporate conclusion. It goes like this: "Fuck Reebok, all they do is ignore me. Always have, always have."
The showing of money has not been discounted…
Courtesy of Empire Magazine (UK) – Jeff Dawson – April, 1997