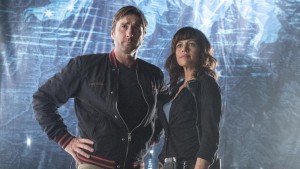 Roadies Production Notes
Overview
Created by Oscar® winning writer/director Cameron Crowe and executive produced by Crowe, Winnie Holzman and J.J. Abrams, Roadies is an insider's look at the reckless, romantic, funny and often poignant lives of a committed group of "roadies" who live for music and the de facto family they've formed along the way. Chronicling the rock world through the eyes of music's unsung heroes, the series puts the spotlight on the backstage workers who keep the show on the road while touring with successful arena-level group, The Staton-House Band. Luke Wilson stars as the band's tour manager opposite  SAG® Award nominee Carla Gugino as the production manager. Their unique personal/professional relationship is forever crashing and colliding as they struggle to maintain harmony among the road crew and band.
Imogen Poots, Rafe Spall, Academy Award® nominee Keisha Castle-Hughes, Peter Cambor, Colson Baker a.k.a. Machine Gun Kelly and Ron White star in the ensemble cast. Luis Guzmán, Jacqueline Byers, Finesse Mitchell, Branscombe Richmond and Tanc Sade guest star in the pilot episode. Roadies is produced by Bad Robot Productions, Vinyl Films and Dooley & Company Productions, in association with Warner Bros. Television.
Soundcheck
Cameron Crowe
Creator/Executive Producer/Writer
There is a time in all our lives when we finally feel connected. When a family develops and you are part of something bigger. There are no questions, no doubts – just the mission and the people you share it with.
It's bigger than the stolen kisses along the way. Bigger than the hearts broken late last night. Bigger than the ones who get too old and fall away or learn to feel less and disappear.
It feels like forever but it can't be. Nothing can feel like this forever.
There is only right now. These friends. This city. This night. Our mission.
We'll set the mood. And the stage. And the chords. And the candles. And love each other or kill each other over getting it just right.
That's us. Just outside the spotlight. Your invisible hosts.
Hope you feel it too.
We're here with a gift.
Music.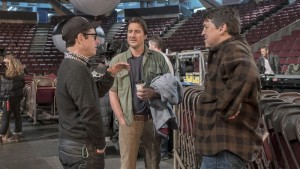 Winnie Holzman
Executive Producer/Writer
I first met Cameron in 1995. I had been working on my TV series, My So-Called Life when Gail Levin (who casts nearly all Cameron's movies) contacted me out of the blue, asking for the name of the actress who played the somewhat befuddled guidance counselor on our show. When I told her that person was me, Gail asked if I'd be interested in auditioning for Cameron's new project, a move called Jerry Maguire. How could I possibly say no? It was an opportunity to meet Cameron Crowe!
Of course, I'd already met him in a way. Because I'd seen Fast Times, Say Anything…, Singles – he hadn't made Almost Famous yet – movies so refreshingly original, with such heart, humor and soul, that you felt you were making a new friend. Movies with such indelible characters and unforgettable moments it was a miracle they'd actually been allowed to happen in the studio system.
So we met, I auditioned and was given the gift of playing a small part in Jerry Maguire. It was a joyful, unforgettable experience – starting with the moment that I first read Cameron's script. Here was a writer who was able to comment on our world with a warmth and a kindness that drew you in and made you feel part of something.
In Cameron Crowe movies, people struggle and make mistakes but there is a respect and a love for each character and for the audience that never wavers. His work inspires me. It makes me want to be a better writer.
So when J.J. Abrams asked me if I'd like to collaborate with Cameron on first television series – once again – how could I say no?
J.J. Abrams
Executive Producer
I have known Cameron Crowe for a long time. For an even longer time I have been a fan of his, as a journalist and filmmaker. Nearly a decade ago I tried to convince him to do a series about a rock 'n' roll tour. I knew that no one else could make a show in that world that would be as vital and romantic and messy and sweet and funny as he could. We had a few meetings and Cameron took copious notes, as he always does. After a year or so of infrequent meetings we both got busy and the show was put into cryogenic stasis. A few years ago I expressed to him that I am fairly impatient as a general rule and five years was about as long as I could wait for him to write the pilot. Essentially, I begged and pleaded. To my surprise, Cameron came to Bad Robot and over the course of a couple month he wrote the pilot script of Roadies. It was everything I had spent my 40s waiting for.
The first person we contacted to collaborate with us was Winnie Holzman. I've been talking to Winnie for a few years about working on something – when I pitched her Cameron's show all she could say was, "Oh my God. Oh my God." She read the script and committed to working with Cameron, whom she had worked with before as an actress in a handful of scenes in Jerry Maguire. Watching the two of them together, pitching ideas, defending and debating characters and creating a series that is uplifting and humane, which celebrates music and passion, is a truly inspiring and wonderful thing.
Bios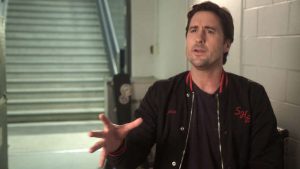 Bill Hansen (Luke Wilson)
Duties: The Tour Manager keeps the band rocking', the crew rollin' and the money flowing. They handle the business aspects of the tour, from dealing with concert promoters, venue managers and ticket agents to making sure things run smoothly and everyone gets paid.
The tour manager for the Staton-House Band is road-weary and sleep deprived, but he absolutely loves music and he loves what he does. He is a childhood friend of the band's lead guitarist/songwriter, and has spent much of his adult life hanging out with them in one way or another. With a girl in every city, he is definitely living the rock lifestyle, but he nevertheless enjoys a "work marriage" with Shelli, whom people regularly mistake for his actual wife.
Luke Wilson has established himself as one of the most versatile actors of his generation. Wilson co-starred in the emotionally charged comedy THE SKELETON TWINS, featuringBill Hader and Kristen Wiig. The film premiered at the 2014 Sundance FilmFestival. Wilson co-directed, wrote and starred in the short film SATELLITE BEACH, which follows the journey of the Endeavour space shuttle as it travels through the streets of Los Angeles to the California Science Center andthe final move of the Atlantis space shuttle to the Kennedy Space Center. SATELLITE BEACH won awards at the Santa Barbara International Film Festival, the HighDesert International Film Festival and the Knoxville Film and Music Festival and was the official selection at fourteen film festivals. Wilson was also seen in Justin Reardon's romantic comedy PLAYING IT COOL, starring alongsideMichelle Monaghan, Chris Evans and Aubrey Plaza. Additional credits include DEAR ELEANOR, RIDE, MEADOWLAND and ROCK DOG.
In 1996, Wilson made his film debut in the acclaimed short BOTTLE ROCKET, directed by Wes Anderson. After its premiere at the Sundance Film Festival, it attracted the attention of James L. Brooks and went on to become a full-length feature film. Wilson went on to star in more than 50 film and television projects,including two more Wes Anderson classics, RUSHMORE and THE ROYAL TENENBAUMS. In 2005, Wilson wrote, starred in and co-directed (with his brother Andrew Wilson) THE WENDELL BAKER STORY, alongside Eva Mendes,Owen Wilson and Eddie Griffin.
Wilson's credits include OLD SCHOOL, with Will Ferrell and Vince Vaughn; the LEGALLY BLONDEfranchise with Reese Witherspoon; the CHARLIE'S ANGELS franchise with Cameron Diaz and Drew Barrymore; BLADES OF GLORY and ANCHORMAN:THE LEGEND OF RON BURGUNDY, also with Ferrell; Ivan Reitman's MY SUPER EX-GIRLFRIEND, opposite Uma Thurman; Mike Judge's satirical IDIOCRACY;3:10 TO YUMA; MY DOG SKIP; HOOT and Neil LaBute's DEATH AT A FUNERAL. Wilson also starred in HENRY POOLE IS HERE, which wa snominated for the Humanitas Prize at the Sundance Film Festival. Wilson's television credits include co-starring with Laura Dern in ENLIGHTENED.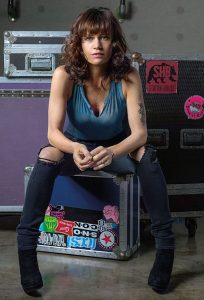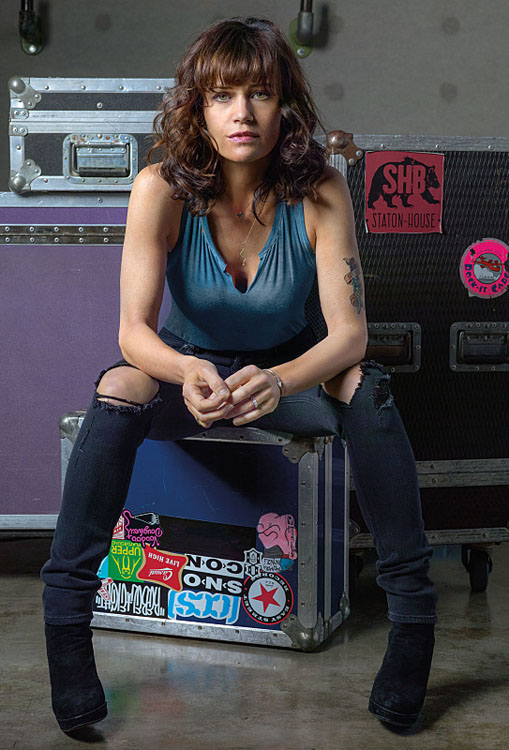 Shelli Anderson (Carla Gugino)
Duties: The Production Manager makes sure every concert deserves a standing ovation. From the lights,  sound and stage design to the advertising and ticket sales, they handle the details, hire and train the crew, take care of the headliner and the opening act and make sure it all happens according to plan.
A hard working straight shooter, Shelli, the production manager, is the true brains of the operation. She is always quick to get Bill going, and steer him in the right direction. Her no-nonsense style makes her somewhat feared by the rest of the crew, but she is not completely without a heart. She shares a "work marriage" with Bill — the two are very connected. But Shelli is actually married to another roadie who works on a different tour.
Acclaimed screen and stage beauty Carla Gugino has enjoyed both critical and commercial success as an actress. She starred in Warner Bros.' summer 2015 tentpole SAN ANDREAS, opposite Dwayne Johnson. Some beloved roles include "Ingrid Cortez" in the SPY KIDs trilogy, "Dr. Vera Gorski" in SUCKER PUNCH, "Lucille" in SIN CITY, "Amanda Daniels" in ENTOURAGE, "Sally Jupiter" in WATCHMEN and notable lead roles in television shows KAREN SISCO and THRESHOLD.
Gugino recently wrapped production on the indie film WOLVES, opposite Michael Shannon. She appears in the Peter Chelsom-directed THE SPACE BETWEEN US, opposite Gary Oldman, Britt Robertson and Asa Butterfield. Her other feature film work includes starring roles in MATCH, AMERICAN GANGSTER, NIGHT AT THE MUSEUM, RACE TO WITCH MOUNTAIN, MR. POPPER'S PENGUINS, WOMEN IN TROUBLE, ELEKTRA LUXX and SON IN LAW.
Gugino can be seen in the comedy series THE BRINK, opposite Tim Robbins and Jack Black. She also starred alongside Matt Dillon in FOX's miniseries WAYWARD PINES. Other television work includes USA miniseries POLITICAL ANIMALS, opposite Sigourney Weaver and Ellen Burstyn, as well as memorable roles in NEW GIRL, JUSTIFIED and as David Duchovny's razor-sharp lawyer and love interest on the SHOWTIME® Original Series CALIFORNICATION.
Gugino's Broadway work includes turns as "Maggie" in Arthur Miller's AFTER THE FALL (for which she received a Theatre World Award and an Outer Critics Circle nomination for 'Outstanding Actress In A Play'), "Catherine" in Tennessee Williams' SUDDENLY LAST SUMMER, opposite Blythe Danner (Outer Critics Circle nomination) and the role of "Abbie Putnam" in Eugene O'Neill's DESIRE UNDER THE ELMS (also nominated by the Outer Critics Circle), opposite Brian Dennehy. Of this last performance, Christopher Isherwood of The New York Times wrote: "Ms. Gugino displays a depth and range of expression that I cannot imagine any other actress achieving with such blazing honesty and wrenching truth. She is simply magnificent."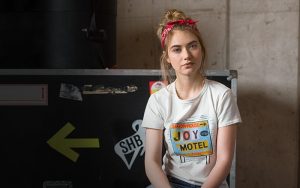 Kelly Ann (Imogen Poots)
Duties: The Electrician gets everyone amped up for the show. If it plugs in, powers on or lights up, it's their job to get it ready and keep it working. And if it short circuits, burns out or melts down, they fix it on the fly.
Always questioning and curious, Kelly Ann had dreams of going to film school, but the music and the camaraderie keep her around. She is an electrician and spends a lot of her time high above the stage rigging lights. She's also a mean skateboarder, and her ability to get around the huge arenas quickly on her board comes in handy. She has a tendency to be serious and has difficulty connecting with people, both of which make her self-conscious. Her twin brother Wes is also on the tour, which she is less than thrilled about.
An emerging actress on the rise, Imogen Poots challenges herself with each new role and continues to evolve her body of work with every project.
Poots will can be seen in Jeremy Saulnier's GREEN ROOM, portraying "Amber." This June, she will star opposite Andy Samberg in POPSTAR: NEVER STOP NEVER STOPPING, which is written by Samberg and produced by Judd Apatow. Poots recently wrapped production on Vladimir de Fontenay's MOBILE HOMES.
Poots recently starred opposite Michael Shannon in Matthew M. Ross' FRANK & LOLA, and played "Della" in Terrence Malick's KNIGHT OF CUPS, with stars Christian Bale and Natalie Portman. Prior to that, she starred in Peter Bogdanovich's SHE'S FUNNY THAT WAY, produced by Wes Anderson and Noah Baumbach. For her performance, Poots received an Evening Standard British Film Award nomination.
Since her breakthrough performance as "Tammy" in Juan Carlos Fresnadillo's critically acclaimed film 28 WEEKS LATER, Poots has continued to impress critics and audiences alike. She was most recently seen in John Ridley's JIMI: ALL IS BY MY SIDE, co-starring André Benjamin and Hayley Atwell; Pascal Chaumeil's A LONG WAY DOWN, with Aaron Paul, Pierce Brosnan and Toni Collette; and Irvine Welsh's FILTH, a follow up to TRAINSPOTTING, with James McAvoy.
Other film credits include Anna AXSTER'S A COUNTRY CALLED HOME, NEED FOR SPEED, THAT AWKWARD MOMENT, THE LOOK OF LOVE, GREETINGS FROM TIM BUCKLEY, A LATE QUARTET, COMES A BRIGHT DAY, FRIGHT NIGHT, JANE EYRE, CHATROOM, CENTURION, WAKING MADISON, SOLITARY MAN, CRACKS and ME AND ORSON WELLES. Poots' television credits include BBC's MISS AUSTEN REGRETS as "Fanny Knight," ITV's BOUQUET OF BARBED WIRE as "Prue Sorenson" and BBC's CHRISTOPHER AND HIS KIND as "Jean Ross."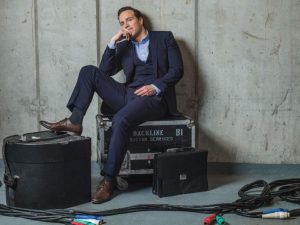 Reg Whitehead (Rafe Spall)
Duties: The Financial Advisor makes sure the band makes money while making music. They provide financial guidance and handle negotiations with promoters, booking agents and record labels to negotiate fees and ensure the band gets paid.
A money man sent from corporate to rein in tour expenses, poor Reg is in the unenviable position of having to question everything and make cuts. This makes him wildly unpopular with the crew. He is also British and new to the music industry, which makes it even harder for him to fit in. But Reg is not without feelings, and he tries his best to assimilate and make friends in a hostile environment.
Rafe Spall recently starred in THE BIG SHORT opposite Christian Bale and Brad Pitt for director Adam McKay. Last year, he performed on Broadway in Mike Nichols' revival of Harold Pinter's BETRAYAL, for which he received rave reviews. He can also be seen in the History miniseries SONS OF LIBERTY, which was directed by Kari Skogland.
Spall's other film credits include Dan Mazer's I GIVE IT A YEAR and Ang Lee's LIFE OF PI; PROMETHEUS, for Ridley Scott and Fox; Roland Emmerich's ANONYMOUS; Lone Scherfig's ONE DAY; Edgar Wright's HOT FUZZ AND SHAUN OF THE DEAD; Ridley Scott's A GOOD YEAR; and WHAT IF, opposite Daniel Radcliffe and Zoe Kazan for CBS Films. Spall received critical acclaim when he starred in Nick Payne's CONSTELLATIONS in London's West End, opposite Sally Hawkins.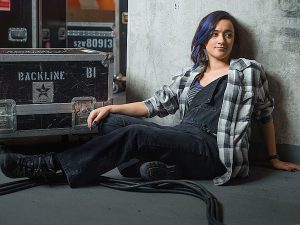 Donna Mancini (Keisha Castle-Hughes)
Duties: The Sound Engineer blends the different instruments and vocals together to ensure every song is music to the audience's ears. They keep things in balance and sounding great from the first note to the last encore.
The kick-ass sound engineer for the band is someone who doesn't' suffer fools. Constant relationship issues at home keep her on edge, but that doesn''t stop her from choosing and playing the popular Song of the Day as the crew works.
Keisha Castle-Hughes was last seen as "Obara Sand" in GAME OF THRONES and just wrapped shooting the DreamWorks feature THANK YOU FOR YOUR SERVICE. She began her career with her breakthrough performance in Niki Caro's film Whale Rider. Her portrayal of "Paikea" earned her international acclaim, a 2003 Oscar® nomination for Best Actress and awards from Broadcast Film Critics, Chicago Film Critics, NZ Film & TV, Online Film Critics Society and the Young Artist Awards. She then went on to play "Queen of Naboo" in George Lucas' STAR WARS: EPISODE III – REVENGE OF THE SITH, and "Mary," opposite Oscar Isaac in THE NATIVITY STORY, directed by Catherine Hardwicke.
Castle-Hughes appeared in the high profile independent films HEY HEY IT'S ESTHER BLUEBURGER, opposite Toni Collette, and THE VINTER'S LUCK (a.k.a A HEAVENLY VINTAGE), directed by Niki Caro. She had one of the lead roles in the independent feature VAMPIRE, opposite Kevin Zegers, as well as the feature RED DOG, opposite Josh Lucas and Rachael Taylor. Most recently, she shot the co-lead role in Shiloh Fernandez's directing debut feature QUEEN OF CARTHAGE, alongside Fernandez.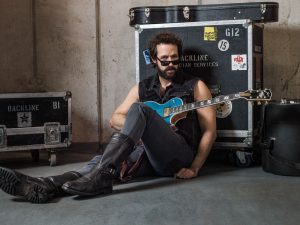 Milo (Peter Cambor)
Duties: The Bass Tech never frets the small stuff. They make sure the bass, amps and effects pedals are set up, tuned-up and keep rocking all night long.
Milo revels in his road-worthy, slightly scuzzy charm. He is the dedicated and loyal bass guitar tech, in charge of making sure the guitars are ready for each show. He wants desperately to be cool, but he's ultimately a bit paranoid.
Peter Cambor was born in Houston, Texas. After receiving his B.A. in English from Wesleyan University, Cambor moved to New York to pursue a career in acting. After two years of waiting tables, Cambor was accepted by the American Repertory Theater's M.F.A. program at Harvard University and the Moscow Art Theatre in Russia. Upon completing the program, Cambor was cast in the Mark Taper Forum's production of THE CHERRY ORCHARD, starring Annette Bening and Alfred Molina. During the production, a producer saw his performance and asked him to audition for the pilot of ABC's NOTES FROM THE UNDERBELLY, in which he was ultimately cast, starring opposite Jennifer Westfeldt. The series was picked up that summer and ran for two seasons. Cambor was next cast in CBS's drama NCIS: LOS ANGELES as Operations Psychologist Nate Getz. He still appears as Nate, a recurring cast member. Other credits include GRACE AND FRANKIE, WEDDING BAND, SUITS, MADAM SECRETARY, PUSHING DAISIES and NUMB3RS.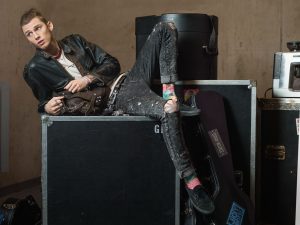 Wesley (Colson Baker)
Duties: Being a Manny is child's play. They take care of the band members' most precious creation: their offspring. That can mean anything from helping with homework to playing video games to having backstage water balloon fights.
Kelly Ann'e's twin brother Wes is the official espresso maker for the tour. He''s also the "Manny" for the lead singer's impossibly ill-behaved son. He is friendlier and more popular than his sister, which makes her resent him like crazy.
Colson "Machine Gun Kelly" Baker burst onto the music scene in 2012 and, with the release of his first album LACE UP, immediately shot to fame. The young rapper from Cleveland, OH possesses the attitude of rap greats and the talent to match. From his gritty rhymes to his tenacious presence, Baker has become a permanent staple in the hearts of his growing fan base.
In 2011, he secured a record deal with Jimmy Iovine's Interscope Records through Diddy's Bad Boy Records imprint. With the release of LACE UP, MGK earned a spot at #2 on Billboard's R&B/Hip-Hop Albums chart, clinched an MTV European Music Award and won four Ohio Hip-Hop Awards. MGK's most recent album, 2015's GENERAL ADMISSION, debuted in the #1 spot on Billboard's R&B/Hip-Hop Albums chart.
In 2014, Baker made his big screen debut in the music themed drama BEYOND THE LIGHTS. He has four films set for release in 2016 including NERVE, starring Dave Franco and Emma Roberts; the horror-thriller VIRAL; the long-awaited sequel PUNK'S DEAD: SLC PUNK 2 and THE LAND, produced by rapper Nas and co-starring Erykah Badu. ROADIES is Baker's television debut.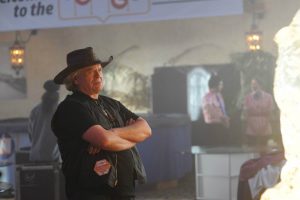 Phil Valentine (Ron White)
Duties: The Road Manager is the conductor of the crew symphony. They're responsible for everything that happens on the tour from transportation, permits and equipment logistics to guest lists and backstage catering.
Comedian Ron "White is a BLUE COLLAR COMEDY TOUR founding member and three-time Grammy® nominee. He's sold over 10 million albums, with all four hitting #1 on the Billboard Comedy Charts. All his DVDs are certified Platinum.
The CD of his 2005 TV special RON WHITE: YOU CAN'T FIX STUPID was nominated for a Grammy, as was 2006's BLUE COLLAR COMEDY TOUR: ONE FOR THE ROAD. White's first book, I HAD THE RIGHT TO REMAIN SILENT… BUT I DIDN'T HAVE THE ABILITY, landed on The New York Times Best Seller List.
His work includes BLUE COLLAR COMEDY TOUR: THE MOVIE, DRUNK IN PUBLIC (CD), RON WHITE: THEY CALL ME TATER SALAD (TV), BLUE COLLAR COMEDY TOUR RIDES AGAIN (TV, DVD, CD), RON WHITE: BEHAVIORAL PROBLEMS (CD), RON WHITE: A LITTLE UNPROFESSIONAL (CD). He had roles in HORRIBLE BOSSES, SEX AND THE CITY 2 and JAYNE MANSFIELD'S CAR. He's co-executive producer of BRIDEGROOM (2013 Tribeca Film Festival Audience Award: Best Documentary). An Armed Forces Foundation supporter, he started RON WHITE'S COMEDY SALUTE TO THE TROOPS in 2008.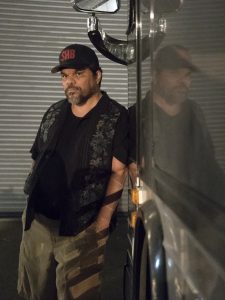 Gooch (Luis Guzmán)
Duties: The Tour Bus Driver keeps the band and crew rollin' to the next gig. In addition to keeping their eyes on the road and their hands upon the wheel, they sometimes shift gears to lend an ear as therapist, confidante and friend.
The wise tour bus driver is a sage paternal figure to many of the crew. He has been on the road for years and has driven the best bands, about which he takes great pride. He has a great passion for music and he loves his job, but that doesn't stop him from missing his beautiful wife.
Luis Guzmán has more than 60 feature films to his credit and currently stars alongside Marcia Gay Harden in the CBS series CODE BLACK. Guzmán appeared in KEANU, with Key & Peele; THE DO OVER, with Adam Sandler; TOP FIVE, with Chris Rock and WE'RE THE MILLERS, with Jennifer Aniston. He starred alongside Arnold Schwarzenegger in THE LAST STAND and alongside Denzel Washington and John Travolta in Tony Scott's THE TAKING OF PELHAM 1 2 3. Guzmán starred in HOW TO MAKE IT IN AMERICA, executive produced by Mark Wahlberg; appeared as a supporting lead in the Netflix series NARCOS and plays the lead in the self-produced PUERTO RICANS IN PARIS, written and directed by Ian Edelman, which is being released by Focus Features.
Guzmán won a 2001 Screen Actors Guild Award® for Outstanding Performance by a Cast for Steven Soderbergh's TRAFFIC, received a Best Supporting Actor Independent Spirit Award nomination for his role in Soderbergh's THE LIMEY and re-teamed with the director on OUT OF SIGHT and WELCOME TO COLLINWOOD. He received SAG Award nominations for his performances in the Paul Thomas Anderson films MAGNOLIA and BOOGIE NIGHTS and also appeared in the director's PUNCH-DRUNK LOVE. His collaborations with Brian De Palma include SNAKE EYES, opposite Nicolas Cage and CARLITO'S WAY, with Al Pacino and Sean Penn. He worked with Sidney Lumet on FAMILY BUSINESS, Q & A and GUILTY AS SIN. Television credits include NYPD BLUE, LAW & ORDER, OZ, JOHN FROM CINCINNATI and MIAMI VICE.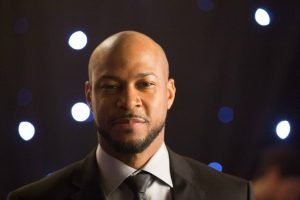 Harvey (Finesse Mitchell)
Duties: The Accountant always had their eye on the bottom line. They crunch the numbers, analyze the figures and provide management with the financial information they need to keep the band profitable.
As the tour accountant, Harvey knows exactly what state the tour is in at all times, so he's always quick to cover his own ass and tell the powers that be what they need to know. He has a wife and kids at home, but he is thrilled to be part of the Staton-House Band family.
SATURDAY NIGHT LIVE alum Finesse Mitchell appeared in BROTHERS IN ATLANTA, executive produced by Lorne Michaels and directed by Tim Story. In January of 2015, Mitchell, a supporter of the men and women in the armed forces, appeared at RON WHITE'S COMEDY SALUTE TO THE TROOPS. Mitchell was a member of the 2014 Shaq All-Star Comedy Jam tour and further shined on SHAQUILLE O'NEAL PRESENTS: ALL-STAR COMEDY JAM – LIVE FROM ATLANTA, which aired on SHOWTIME®. In addition to being a SATURDAY NIGHT LIVE alum, Mitchell's previous credits include Disney's A.N.T. FARM and BET/Centric's ACCORDING TO HIM & HER. Mitchell has also had numerous appearances on NBC's TODAY SHOW, THE TONIGHT SHOW WITH JAY LENO, LATE NIGHT WITH JIMMY FALLON, THE ARSENIO HALL SHOW, BET's COMIC VIEW, TYRA and many more.
Born and raised in Atlanta, Georgia, Mitchell graduated from the University of Miami and is a distinguished member of Kappa Alpha Psi Fraternity. He is also a former student athlete who was a walk-on for the National Champion Hurricanes football team.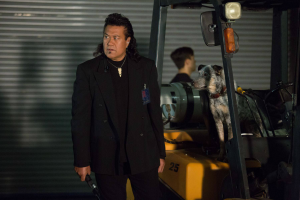 Puna (Branscome Richmond)
Duties: The Head of Security is the muscle behind the music. They train and oversee the band's traveling security staff, maintain crowd control and are the first responders in an emergency.
Branscome Richmond was born in Los Angeles, California, the son of Leo C. Richmond, an actor and stuntman.
He appeared in numerous TV shows including Hawaiian Heat, Heart of the City, Renegade, Walker, Texas Ranger, The A-Team and The Highwayman. His feature film credits include Star Trek III: The Search for Spock, Action Jackson, Harley Davidson and the Marlboro Man, Christopher Columbus: The Discovery, The Scorpion King and Forgetting Sarah Marshall.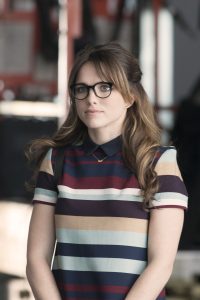 Natalie Shayne (Jacqueline Byers)
Duties: A Groupie may love the music but for her, the band comes first. Part of a longstanding rock tradition, this superfine-cum-muse is celebrated both in wild backstage tales and in hit songs.
Jacqueline Byers grew up outside of Toronto in Mississauga and received her B.A. in Acting from Queen's University in Ontario, Canada. On stage, she has performed in "Here" at Toronto Fringe Festival, "Spelling Bee" for Collective Productions, "Chess" at Theater Aquarius, and both "Annie" and "Peter Pan" at Oakville Centre for Performing Arts. Her first staring role was on Syfy's Ascension as Nora Bryce. She has also appeared in the TV shows The Strain, Scared Stiff, Timeless and the films Full Out and Bad Samaritan.