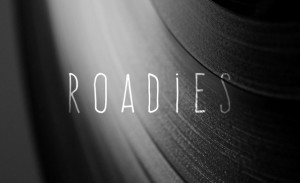 Roadies Soundtrack Liner Notes
Throughout all of its various permutations from early inception in the mid-2000s to the last day of editing the final episode literally mere moments ago, Roadies was always meant to be a slice of rich characters and vibrant music — the soundtrack to a backstage life populated by true music geeks.  Our little labor of love also seemed like the perfect chance to showcase music as few get to see or hear it — from the road crew's point-of-view.  Rare versions of songs.  Soundchecks.  Backstage jams.  Impromptu a capella in hallways.  The backdrop to each episode would be a free-flowing soundscape filled with different genres, and music from different eras, from the thirties to something released last week.
Also part of the plan was to keep cycling a steady stream of artists who would not only perform live, but would interact with our cast — as actors, playing… themselves.  It's a joyful day when you get to bring heavyweights out of their comfort zone to glorious effect, like directing Jackson Browne trading barbs with Luke Wilson, and Luke Wilson harmonizing with Jackson Browne… all within the same scene.
In the summer of the first leg of our Staton-House Band tour, every time we filmed at a new venue we would look up its history, and the bands that played there in the past.  "Zeppelin played here on their first U.S. tour!"  "Elvis was at this arena during his comeback!"  We spoke with awe and great reverence of the ghosts each building held, honored to be walking in the footsteps of such giants.
Great care was also taken that the songs chosen with each artist have another meaning, a thread to our story or characters.  The only edict was: no miming to playback.  Not even to live versions recorded in a previous take.  These would be live performances.  Real performances.  That's where the magic happens.  And luckily for us, it did.  Repeatedly.  We had a killer group of people on set behind the scenes as well — Jeff Wexler, Donavan Dear, Don Coufal, Eric Batut, Gary Raymond and Bill Lanham all brought their particular expertise in shaping the music in your hands (or ears, as the digital case may be).
Our cast and crew were always so happy on live music days.  Lindsey Buckingham was the first to perform on Stage 25 where we captured most of the live music that enveloped Roadies.  Reignwolf was next, tearing it up with a blistering live two-song set of "Are you Satisfied?" and the brand-new "Hardcore."  Jim James, our My Morning Jacket friend since the days of Elizabethtown, came in to deliver a tribute to The Who by playing their little-known gem, "They Are All In Love." Lucius rolled in and took over the stage with a killer version of "Born Again Teen."  Other workers from other shows on the lot began to sneak in to listen.  Life imitated art.  This was what we wanted to catch — the musical gifts that come to the people who work behind the curtain.  Our summer was packed with one magical moment after another — from Phantogram and John Mellencamp to Halsey and even our own resident musician-turned-actor, Machine Gun Kelly, with his heartfelt rendition of the Lynyrd Skynyrd classic "Simple Man" — all culminating with our final episode, "The Load Out."  Jackson Browne wowed with three songs including Little Feat's "Willin'" (with a beautiful assist from Jess and Holly from Lucius and the great Greg Leisz), Robyn Hitchcock gave us "Sayonara, Judge," we had the return of Jim James (encore!), a soulful Gary Clark Jr. took us to "Church" and brought "The Healing." Eddie Vedder graced us with "Man of the Hour" and finally Nicole Atkins performed her thrilling new song, "A Little Crazy."
And then, on that late night in July… it was over.  The night air was filled with excitement and the slightly melancholic realization that we had completed our last show on this leg of the tour.  We were all drunk with memories of the adventure we'd just had, the music still ringing in our ears.  Life looked just like the life of the show as we shuffled off into the night, wondering where the next leg might lead us.  We took one last look around the stage that supported all of those artists, thinking about the ghosts it will now contain.  With a special shout-out to Kelly Curtis, Christian Fresco, Jessica Curtis, Andy Fischer and Greg Mariotti… and especially the musicians who showed up bright and early and rocked until late at night, here are the souvenirs of our very first Roadies journey.