Release Date: January, 2002
Catalog #: RTH-2001
Number of Copies:
Tracklisting:
America – Simon & Garfunkel
Sparks – The Who
It Wouldn't Have Made Any Difference – Todd Rundgren
Every Picture Tells A Story – Rod Stewart
Feel Flows – The Beach Boys
Your Move – Yes
Mr. Farmer – The Seeds
One Way Out – The Allman Bros
Simple Man – Lynyrd Skynyrd
That's The Way – Led Zeppelin
Tiny Dancer – Elton John
Lucky Trumble – Nancy Wilson
I'm Waiting For The Man – David Bowie
The Wind – Cat Stevens
Slip Away – Clarence Carter
Something In The Air – Thunderclap Newman
Fever Dog – Stillwater
Love Thing – Stillwater
Chance Upon You – Stillwater
Love Comes And Goes – Stillwater
Hour Of Need – Stillwater
You Had To Be There – Stillwater
Notes:
Here's pics of the test pressing, black vinyl, inner sleeves and Stillwater poster: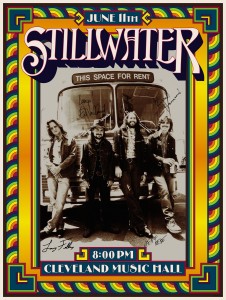 Press Release:
In conjunction with Dreamworks Films special directors cut DVD release of Cameron Crowe's Almost Famous, Classic Records is pleased to announce the release of Untitled – an inspired reissue of the soundtrack for the Academy Award winning film Almost Famous. This two LP set features bonus material by Stillwater. The Stillwater tracks were mastered directly by Bernie Grundman from the 1/2″ analog masters (*due to time constraints with this production, digital sources were utilized for the other repertoire). This is a limited edition release (only 2500) with over 500 pieces of collectable memorabilia from the film set itself randomly distributed in the packaging.