Release Date: May, 2002
Catalog #: RTH-2002
Number of Copies:
Tracklisting:
All The Right Friends – R.E.M.
Everything In It's Right Place – Radiohead
Vanilla Sky – Paul McCartney
Solsbury Hill – Peter Gabriel
I Fall Apart – Julianna Gianni
Porpoise Song (Theme From Head) – The Monkees
Mondo '77 – Looper (Featuring Frances Macdonald)
Have You Forgotten – Red House Painters
Directions – Josh Rouse
Africa Shox – Leftfield / Afrika Bambaataa
Svefn-G-Englar – Sigur Ros
Last Goodbye – Jeff Buckley
Can We Still Be Friends – Todd Rundgren
Fourth Time Around – Bob Dylan
Elevator Beat – Nancy Wilson
Sweetness Follows – R.E.M.
Where Do I Begin – The Chemical Brothers
Notes:
"Have You Forgotten" runs a few minutes longer with additional lyrics. "Afrika Shox" and "Porpoise Song also have longer intros and outros.
Here's pics of the vinyl and the film strip that is included with each copy: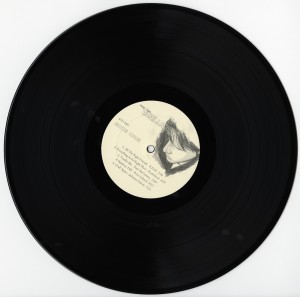 Press Release:
"In conjunction with Reprise Records and Paramount Pictures, Classic Records and Vinyl Films are proud to begin work on the Limited Edition release of the soundtrack to the film Vanilla Sky on 180-gram virgin vinyl. Classic Records and Vinyl Films previously partnered on last December's 'Untitled' release, the expanded soundtrack to Almost Famous.
The outer gatefold artwork of the Vanilla Sky LP is an homage to The Beatles' White Album, with a simple, elegant, ghostly photograph of David Aames gracing the front cover. The inner gatefold begins with an iconic image of David Aames in the mask, overlooking the album credits. From there, the inner gatefold is a 5-page booklet literally packed with images from Vanilla Sky, giving the movie fan a rare behind-the-scenes look at the making of Vanilla Sky, both behind and in front of the camera. The labels of each album-side have a different interpretation of David Aames' mask sketched by Vanilla Sky storyboard artist Alex Hill.
Further sweetening the pot for the fans, each of the first 2500 Vanilla Sky LPs is numbered, and comes with 12 frames from an actual print of the film! These films strips come in a silkscreened glassine envelope with a sketch of the mask lying in the street next to David Aames' hand. The envelope is labeled 'a piece of the puzzle'. A few random copies of the album will be signed by writer-director Cameron Crowe, and a few by score composer Nancy Wilson. The Vanilla Sky LP is the perfect companion piece to the Vanilla Sky DVD and is available for order at www.classicrecords.com.