Cast: Sean Penn, Jennifer Jason Leigh, Judge Reinhold, Phoebe Cates, Brian Backer, Robert Romanus & Ray Walston
Crew: Directed By: Amy Heckerling Written By: Cameron Crowe Based on the Book By: Cameron Crowe Produced By: Art Linson & Irving Azoff DP: Matthew F. Leonetti Editor: Eric Jenkins Costume Design: Marilyn Vance
Theatrical Release Date: August 13, 1982
Tidbits:
Cameron's original script (dated February, 1981) was entitled High School: A Stairway to Heaven.
To prepare for her role as Stacy Hamilton, Jennifer Jason Leigh spent three weeks prior to filming working as a waitress at Perry's Pizza Parlor in the Sherman Oaks Galleria shopping mall where much of the action occurs.
When Stacy and Ron Johnson end up going to "the point," the words "The Cinch" are spray-painted on the wall. The group that plays the last dance of the year is called Reeves Nevo and The Cinch. Reeves was director Amy Heckerling's fiancée while the film was being made.
Among the group of young actors who made their screen debut are Nicolas Cage (under his real name Nicolas Coppola), Eric Stoltz, Anthony Edwards and Forrest Whitaker.
Director Martin Brest plays a small part in the film as the doctor at the hospital near the end.
The film was originally given an X rating by the MPAA and the studio was required to make cuts to the Stacy and Damone sex scene including the removal of full frontal male nudity to obtain an R rating.
Vanity Fair got the gang together for a 20 year reunion photo in March 2002. A celebrity photographer, Jason Schmidt, did the work at Beverly Hills High School. Sean Penn was the first to arrive and stayed throughout the shoot. Everyone was there but Cameron, Phoebe, Jennifer and Anthony Edwards.  Cameron and Anthony were shot later on the West coast and then digitally inserted. The two girls, however, took a bit more work. The photographer talked the school into selling him two of the desks which he shipped back to NYC and then shot 'Linda' and 'Stacy' reacting to their 2500-mile-away detractors, and again digitally inserted.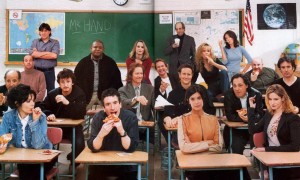 Empire also published the picture with a listing of credits for each cast/crew member.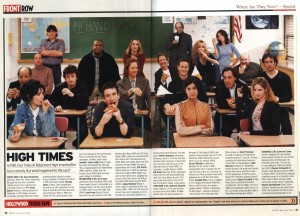 Here's a scan of the Japanese LaserDisc: