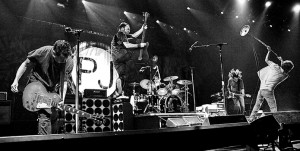 Cast: Jeff Ament, Matt Cameron, Stone Gossard, Mike McCready & Eddie Vedder
Crew: Written & Directed By: Cameron Crowe Produced By: Kelly Curtis, Cameron Crowe, Morgan Neville, Barbara McDonough & Andy Fischer DP: Nicola B. Marsh Editors: Chris Perkel, Kevin Klauber & Adi Cabigting
Theatrical Release Date: September 20, 2011
Tidbits:
The documentary was culled from over 1,200 hours of archival Pearl Jam footage, plus 24 hours of recently shot interview and live footage by Cameron. For more info, please check out PJ20 editor Chris Perkel's interview with The AWL.
Co-editors Chris Perkel and Kevin Klauber also spoke about editing the film with Creative Planet Network.
Here's a quote from Pearl Jam bassist Jeff Ament, courtesy of Rolling Stone, after seeing an early cut of the film:

"I just saw a rough cut. It was so [expletive] weird seeing footage of stuff I didn't know anybody was taping at the time. The whole movie is Cameron's love letter to us – but it's equal parts complimentary and really painful. It shows our growing pains and some real bad times, including Roskilde [the 2000 festival in Denmark during which nine fans died during a performance]. It was just really hard to watch."

The film debuted at the Toronto International Film Festival on September 10, 2011. You can read the press conference transcript with the band and Cameron here. 
Cameron spoke about the film with Pearl Jam Radio. Check out the interview here.