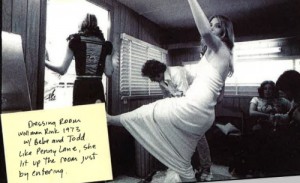 Wild Things: Cameron Crowe and Bebe Buell
The kid writer and the beautiful rock chick knew each other for real, when it was all happening. 
Will the real Penny Lane please stand up? Kate Hudson's career-making performance in Almost Famous is based partially on a person who really did exist: former Ford model, Playboy playmate, and rocker Bebe Buell, who's also the mother of movie star, Liv Tyler. Like Famous' Penny, Buell was never a "groupie." Writer/director Cameron Crowe understood this, and cleverly dubbed the wonderful, vibrant, independent girls who lived and died for rock 'n roll, "Band Aids." "We inspire the bands," Penny says in the film.
Such was the case for Bebe, for whom Crowe named the character, Jeff Bebe, (lead singer of the fictional band, Stillwater) in the film. Bebe and Todd Rundgren, whose seminal Something/Anything album appears in the film's opening credits, lived together from 1972 to 1978. Crowe went on the road with them in 1973. In her refreshingly funny and candid memoir, Rebel Heart: An American Rock n' Roll Journey, which St. Martin's Press will publish this summer, Buell recalls those heady days of post-Hullabaloo with Mick and Keith, Bowie and Rod, Aerosmith, and Elvis Costello. The book, written with Victor Bockris, was planned long before the movie. All good "Band-Aids" know about timing.
Cameron Crowe: Do you remember Neal Preston taking all those pictures of you, me and Todd in New York City in 1973? They completely catch that whole time – me being able to leave home and go to New York.
Bebe Buell: I remember you being with us. I thought you always looked like Todd's little brother. It was so much fun!
CC: A couple of the pictures were on the wall when we marking the movie. Two of the people in the picture look timeless. One is just stuck in '73. That would be me. You and Todd exist in any time.
BB: It was an innocent, magical time.
CC: You did an interview with Mojo, in which you told a great story about going to a Stones concert with your mom. It had all the innocence – that whole feeling that you'd joined the circus.
BB: I started something in this very sedate crowd. And I went marching up there with my Instamatic camera because I wanted a picture of Brian Jones in that pinstripe suit playing harmonica. It was a vision. I did it, I remember being rescued by Keith Richards. When you're 11 years old, and that happens, it leaves a lasting impression. I wanted to be rescued again and again.
CC: In the screenplay version, there's a longer speech that Kate Hudson gave that I must say is a tribute to Bebe. It's about how she first went to a concert and almost got crushed but was saved and pulled up on stage. The idea was Kate was saved and pulled backstage. They gave her a Coke and a lemon, and she never went home.
BB: I always thought your story [in Rolling Stone] on Todd was going to be a cover story.
CC: So did I.
BB: And Stillwater seemed like Todd, Peter Frampton, and Bad Company all rolled into one. And Penny lane was like a lot of women I met, with a rock n' roll grandeur.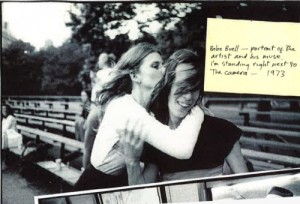 CC: You and Todd both were these towering figures. And we were all so young.
BB: I wondered in the movie if it was Todd who denied everything.
CC: No that was combination. There was a Neil Young cover tory that I worked on but at the last minute, he said, 'You're a nice guy, but I don't want to be on the cover, and I'm telling Rolling Stone I never authorized this story.' I had to call his manager (Elliot Roberts) and he went back to Neil. Some of that was the basis of the story.
BB: I loved it because you finally made such a real rock n' roll movie. I started to cry when I realized you named the singer Jeff Bebe.
CC: There were so many clues. Perhaps you noticed the time-honored Something/Anything cassette in the opening credits?
BB: Your wife, Nancy, did most of the music for this?
CC: She did the guitar interludes and then we wrote the Stillwater stuff, which means I said, 'Let's rip off Bad Company.'
BB: I feels real, not like Velvet Goldmine, but completely authentic.
CC: Velvet Goldmine felt like a fan's fantasy movie. Todd Haynes had the same kind of drive, but I wanted this to feel more like a diary or a collection of artifacts from the inside looking out.
BB: The best line in the whole movie is when Frances McDormand goes, 'Rock stars have captured my  son.' The other great line is, 'It's all happening.' Isn't that from Kim Fowley and Rodney Bingenheimer?
CC: You're exactly right. I got it by way of Michelle Meyer.
BB: She was the best! They'd all go 'It's all happening. Godhead! Godhead!'
CC: I forgot about 'Godhead!' Damn!
Talk: Was your mother like Frances in the movie?
CC: She is. She was a professor at San Diego City College. My mom could fill a couple of movies. She's seen this one like 30 times.
BB: I've seen it at least five times. I cry every time the "Tiny Dancer" part comes in.
CC: It actually happened, but to [Led Zeppelin's] "Whole Lotta Love." I think it was with the Marshall Tucker Band. I always loved "Tiny Dancer," though because it felt so much of the time.
Talk: Did your mother really lie to you about your age?
CC: She did, and my sister still can't believe the dialogue is right. I never forgot that conversation when my sister forced my mom into telling me. I'd skipped fifth grade and gone straight to sixth, so I was 10 in sixth grade. I figured it was okay to be one year younger, but they pulled over in my mom's country sedan and told me it was two years younger.
BB: I also loved the way you portray women in the movie. Your love and respect for women shine through, especially women in rock n' roll. I love it when Kate Hudson goes 'I'm not a groupie.' I used to say the same thing, 'I'm not a groupie. I'm a patron of the arts!'
CC: I always saw them [the "Band-Aids"] as muses. I remember when I met you, you treated me as an equal! You were as much of a participant in the creation and inspiration of the music as some of the musicians in the bands.
BB: There was such an intelligence to Kate's performance, a romance, and magic, like the scene where she's ironing during the fight. Sometimes I just had to be a fly [on the wall].
CC: Or the carrier of messages.
TALK: Was anyone really sold for Heinekens and 50 dollars?
CC: Yes, and she finally surfaced. She was from San Diego and she wrote us on our website. She was with King Crimson and was sold for beer to the Allman Brothers.
BB: Oh my goodness. I never witnessed one of those wagers. But I know there was that cruelty. The wives would show up and the girls would have to stand there and act like they didn't even know the guy.
CC: The strength it took for the girl who's going to stay there and keep her dignity and not let the mask of sadness show too much. I used to watch old Audrey Hepburn movies or Shirley MacLaine in The Apartment, and there was this great quality they had. They would believe in romance, and have their private romances stay private. But in public, they would walk away with their heads held high. I love that.
BB: I showed the movie to my mother and my cousin and they completely adored it.
TALK: Did you tell them this was your life?
BB: No! In some ways it was, and in some ways it wasn't.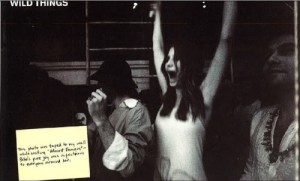 CC: I thought that Penny Lane probably read about Bebe in Rock Scene and wanted to be Bebe, but she was from San Diego.
BB: But she had that sense of grandeur. You have to carry yourself like you're the Queen of Sheba. Because in order to be a rock wife, you're fighting off 5,000 girls every second!
CC: For these women like Bebe and even Patti Smith when she was doing rock journalism, it was about the music. The music was everything.
BB: It was the guys that made the fuss. They wanted to have the relationships. I would have been perfectly happy just loving the music.
CC: And that's what Kate caught on to.
BB: The devil-may-care attitude. It was the guys who decided who they wanted to meet! It's not always the girls who are on the prowl.
CC: Years later, I would run into one of these guys. Within a minute he'd say, 'Do you  remember that girl? Have you talked to so and so?' Their memory of that time is tied to those girls.
BB: I love the part in the movie when Kate is just twirling around in all the debris of the concert . She has this look on her face like, 'Oh my God! ' I once did that in Madison Square Garden. I couldn't believe how small it looked without anybody in it. It looked like a basketball court. These rooms just come to life and look so huge and vibrant when they're filled with people!
CC: Yes, and the memory of what happened in that room an hour or two or three earlier is powerful. And Kate really got that. That' my favorite part.
TALK: Cameron, were you disappointed that Almost Famous didn't do better at the box office? It's confounding.
CC: There was a moment when I knew a lot of people weren't going to see it in the movie theatre. And I remember very distinctly feeling what I didn't want to have happen was a finger-pointing session. It lives forever and I'm thrilled I got to make it. David Geffen loved the movie. He's very proud that DreamWorks made it. All of them were incredibly supportive. If you're a guy who makes a movie about the precious time before commercialism was the biggest story in town, and then you complain that it didn't do well, you're a hypocrite. If fucking Bebe Buell loves it and remembers twirling around, I walk away happy!
Courtesy of Talk magazine – Special Collector's Issue – March, 2001