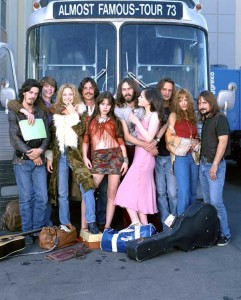 Compiled from multiple sources, here's the latest (but not final) specs on the upcoming DVD.
Almost Famous: Untitled: The Bootleg Cut
Street Date: December 4, 2001
M.S.R.P: $34.95
Disc 1:
159-minute director's cut
Commentary track with Cameron Crowe
Disc 2:
122 minute theatrical version
Extras:
Lester Bangs BBC Interview
"Stairway to Heaven" Deleted Scene (with commentary by Cameron Crowe)
Cast Auditions (i.e. Screen Tests)
New Menu Music by Nancy Wilson
Stillwater Cleveland Concert Excerpt
Cameron Crowe's Rolling Stone Articles
Cameron Crowe's Top 10 Albums of 1973
The Complete Screenplay accessible by DVD-Rom
Theatrical Trailer
Disc 3: Stillwater Audio CD
6 Complete Stillwater Tracks: Fever Dog, Love Thing, Chance Upon You, Love Comes and Goes, Hour Of Need and You Had To Be There.
Unknown: "Fever Dog" Music Video, HBO: Making of Almost Famous, Audio Specs (i.e. DD 5.1, DTS).
Of course, more information will follow when it becomes available.