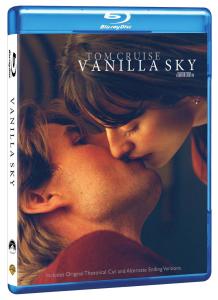 It's almost here! After many, many months of work (and your infinite patience), the Vanilla Sky Blu-ray will be released on June 30th. Listen, we know that our promised May date did not come to fruition, but it wasn't due to a lack of effort. Sometimes scheduling delays are unavoidable for a variety of reasons, but with Warner officially announcing the release, the June 30th date is now final.
In addition to the brand new cover art (pictured above), the Blu-ray will include the theatrical version and the extended/alternate ending version (complete with commentary by Cameron on this alternate ending). Here's a list of the extras:
13 Deleted/Extended/Alternate Scenes (with optional commentary by Cameron) including:

The Pleasure of Sofia
Dog Porno
Career Advice
E-Books
Great Sex
Black Angus
Livin' the Dream
and many more!

2  new "vignettes" "Mask Test" and "Kurt Russell Single Take"
Feature Commentary with Cameron Crowe, Nancy Wilson and (special guest) Tom Cruise (from the DVD release)
Photo Gallery with Audio Introduction by Photographer Neal Preston
Music Video "Afrika Shox" by Leftfield/Afrika Bambaataa
"L.E." Informercial
Gag Reel
"Hitting it Hard" featurette
"Prelude To A Dream" featurette
and much more!
Here's an exclusive first look at the back cover and BD disc art: