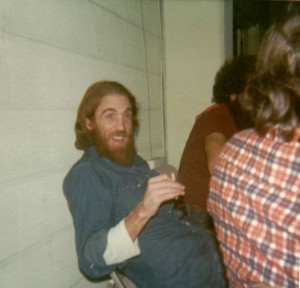 I'm sure you remember Red Dog from Almost Famous? The legendary Allman Brothers Band roadie released a book back in 2001 (A Book of Tails) about his life on the road. Here's what Cameron had to say about it:
"I'll admit it right now. I am a big fan of Red Dog, and have been even before he allowed me to interview him back in 1973 for a story in Rolling Stone. Hell, he was already legendary back then. But now I just have to say that I am extremely jealous of the Great Dog, because I've just finished reading "A Book of Tails." True rock, the kind that lasts forever, is about honesty and humor and love and chasing the elusive buzz of greatness.
Red Dog's book captures all this and more. You can't put this thing down, and best of all, it makes you want to listen to music. Not just the Brothers, but all music. Red Dog really caught something with his writing. This book, and a copy of "Live at Fillmore East" belong in the time capsule reading — Kick back and see what you missed. Two centuries from now I doubt anybody will have said it better. As you can tell, I'm still a fan.
Love you Dog.
Best,
Cameron Crowe
Vinyl Films
Los Angeles, CA
Sounds like a good read. You can check out his official site here.