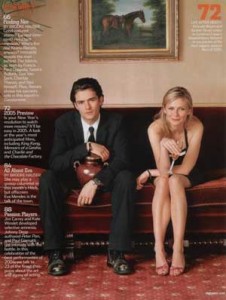 Premiere puts the focus on the Elizabethtown in their new February issue. I have scanned the two pictures you see (including the first known still from the film). There's also a brief Q & A with Orlando Bloom and Premiere's take on the film.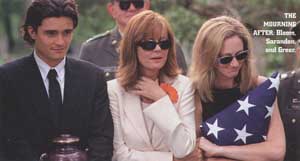 Q&A: Orlando Bloom:
You went straight from playing a holy warrior (in Kingdom of Heaven) to being a seeker after emotional truth in Cameron Crowe's Elizabethtown.
It was my first time doing an American accent. I had a great coach, but I was caught by how draining it was to stay on it the whole time. Also, culturally I think we're very different. Thankfully, I was in the best hands possible for that, because Cameron has his finger on the pulse of America.
What sticks with you from songs he played on a boombox during scenes?
There were numerous, but Bob Dylan's "Mr. Tambourine Man" was really the song. Now, I've done that before, picked a piece of music to help build the character from. But not had it playing in the middle of a take. It really took me to another place.
Elizabethtown

Starring Orlando Bloom, Kirsten Dunst, and Susan Sarandon; directed by Cameron Crowe (Paramount, July 29)
This story of a young man shaken by his father's death is deeply autobiographical for director Cameron Crowe. Drew Baylor (Orlando Bloom), a shoe company whiz kid, has been hit with a double whammy: After a harsh reversal in business, he gets the even harsher news of his dad's passing. En route to Kentucky to join his mother (Susan Sarandon) and sister (Judy Greer) for the service, he meets flight attendant Claire (Kirsten Dunst, who auditioned for Crowe's Almost Famous) — a woman who, says the director, "has to get in there and meddle when she sees a human project… and it plunges him deeper into hell."
A lengthy casting process and Crowe's vision of this as "a movie indelibly set in summer" pushed the start date back several months, a bump in the road that knocked Ashton Kutcher out of the lead role. "In my gut and I think in his gut, too," Crowe says, "we knew it wasn't the right movie for us to be making together." The director is more than pleased with Bloom, who had been his original choice but who was unavilable before the delay. Says Bloom: "Cameron just takes a moment, and it becomes the most beautiful, honest, soulful moment — from the smallest thing, like a hand out of a car window spreading ashes. And it just breaks your heart."