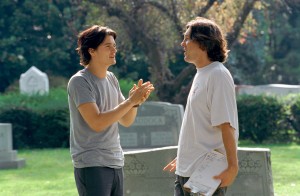 Here's Cameron's Journal entries for Elizabethtown. This encompasses the months of July and August.
July 3, 2004
Last day of rehearsal with Kirsten before she leaves for Spiderman press throughout Europe. The last rehearsal, including the ballroom scene, sparks with real intensity. Dunst is especially magnetic today. It's not hard to stare at her, and for the two hours of our rehearsal it's a real glimpse of the movie we're about to shoot. She's immersed in her character. You'd never know that elsewhere, all across the country, she's on screens everywhere in one of the most successful movies ever made. Here, she's just a girl from Nashville, playing a flight attendant with a love of travel and a strange fascination with a shoe designer from Portland, Oregon, here to helm the funeral of a father he had planned to know better… next year. The exhaustion I'd been feeling is disappearing into a new kind of adrenalin. I hope that I can keep this journal going. Many a director has started keeping a journal only to see it disappear into blank pages shortly after filming, with the tidal wave of actual filming hits. Wish me luck.
July 6, 2004
Everyone is rested up and ready to start filming. We set up shots for the upcoming driving scenes with Orlando. Family portraits (that will be featured on the refrigerator and dresser, etc) are taken of Susan Sarandon, Tim Devitt and Bloom. Standing on the street in Louisville, they pose together and it's like watching another piece of the puzzle snap together. I take a photo cam shot and send it back to L.A. so Doria, who works in our Vinyl Films office, can see. She writes me back excitedly. Putting a movie "family" together is always tricky, and our casting director Gail Levin (nickname "Genius") is a stickler for physical similarities in the casting choices. So is Susan Sarandon. When she met Orlando and Judy Greer in rehearsals, Susan looked into their eyes almost immediately and sized them both up, laughing. "Yep," she said, "we look like a family." Today it's fun to see them in the same frame. In a flash, summer thunder rocks the sky and we're all caught in a rainstorm. Neal Preston takes a few last portraits of Mitch and Hollie – Sarandon and Devitt – caught in the rain. There is something tragic and romantic in the shots. Bet those are the ones we use.
July 12, 2004
My most magical first day ever, and it starts in the Pisgah Cemetery just outside of Lexington. Wonderful accidents arrived, almost immediately. Many feet of film shot. Orlando as Drew is now officially on film, and so it really begins. It's a tough week, with everything scheduled tightly, so I know I have to move quickly. The rehearsals are paying off – there's a brisk language between the actors and me. "Try that thing we did last week?" "Okay, sounds good." This is the best kind of language between directors and actors. And it sure beats, "Okay, what are we doing here?" "You tell me." Special highlight – playing Cat Stevens in the cemetery, and getting a big laugh from soundman Jeff Wexler, who began his career as a production assistant on Harold and Maude.
July 14, 2004
A nail-biter, but we make the day again. There's a visit today from my dad's good old friend Ralph Conlee, who watches from my director chair as we do our big "car stunt." I get all the shots with just a few minutes to spare. I have to keep my eye on the movie, and not just on making the schedule… though one feeds the other. Watching dailies is the true highlight. The scene by the gravesite from day one shows the movie's look – deep and rich… a comedy with visual texture. It feels like comedies that I love, the ones that work the deep-tissue of the frames, Harold and Maude or even Local Hero. Plus, I can already see from the music we've played during the takes… the actors are soaking up the songs we've already picked for the movie.
July 16, 2004
Kirsten returns from her press tour, soon she'll be on film too. A beautiful week ends as we film late at the Clark funeral home. Big scenes, big emotions. The crowds on the streets are growing, kids and families and locals and some who've heard we're here and have traveled to see Kirsten or Orlando. Both take the time, always, to run off and sign autographs or in Orlando's case, taste the homemade ice cream a neighborhood family has made.
We even get a visit from the owners of Ale 8! (It's a favorite regional drink – it's written into the script.) It's so wise and so fortunate that we're starting the movie here so that everyone can bond, and see exactly what this movie is about – Kentucky and the strength of American life outside the culture centers that dominate the media. All the characters and actors are coming together — the movie feels alive. It's a shame to waste this good of an exhaustion on sleep, but so it shall be. Good night.
July 19, 2004
The day begins with some of Orlando's most compelling stuff, a scene facing his dead father's body in a casket at Clark Funeral Home in Versailles, Kentucky. It's one of the first sequences I wrote for Elizabethtown, a scene in which a guy who'd never seen a dead body before deals with being left alone in a room with the deceased father he never knew and never really fell in love with in life. It was written as a showcase moment for the lead character, and a musical showcase too. Much is meant to be said with his silent looks. It was also one of the scenes I auditioned all potential Drews with, and one of the first I'd worked on with Orlando almost two years ago. These are dangerous scenes to discuss and rehearse. Sometimes too much time is spent worrying about these "big" scenes and they can easily crumble under the weight on filming day, when the off-handed ones sail through with ease. I've learned not to over-rehearse scenes. Still, the casket scene loomed on the horizon as a "big" moment. "Big" moments can be dangerous. Today, though, fortune smiles as Orlando digs deep and we're done with the scene before ten in the morning. There's even time to play different songs with different rhythms, trying different things. John Toll's lighting is deeply moving too. Scene and visuals work together.
Orlando finishes the day signing every autograph for the local fans waiting for many hours for him on the street. Dunst, visiting for some costume adjustments and film tests that we do on the front lawn, does the same. (Those are the internet photos that have been surfacing – our costume test on the funeral parlor lawn.) Oh, and the mayor of Versailles, Fred, who actually delivers pizza too, gives me a key to the city. It's on my mantelpiece.
There is no doubt in my mind, this would have made my father a) happy, and b) laugh. You just don't see this kind of passion and appreciation in Los Angeles. Plus, there's some kind of rare delight in talking to the mayor, and calling him Fred.
July 21, 2004
Making a movie, and especially directing the actors, is sometimes a matter of emotional math. The goal, I think, is to satisfy that voice in your head and heart… the one that tells you that a scene is as good as you'd always imagined it. On the day of filming, with chaos reigning around you, and a large clock ticking on the time you can spend, the objective is to get the best version of the scene and know when you have it… or when you don't. The scene today at Wagner's Pharmacy was always a flashpoint in rehearsals. We never got the scene perfect in rehearsals, and the actors were secretly dreading the day of filming…
dreading the agony of NOT getting it right when everything was in place, and the big camera was whirling away, saving everything for posterity. I woke up feeling confident and happily rested after eight hours of sleep (a big bonus). I took this confident mood to the set, and tried to inoculate everyone with the enthusiasm. On the way to the set, I tell Andy that it's going to go well, I was sure that it would. Privately, I know it's a make-or-break day in terms of getting the lead actors' chemistry on film.
The scene is a simple scene across a table, but much is discussed. It takes place at a Louisville hotspot… for horse trainers and horseracing fans, a diner across the street from Churchill Downs, site of the Kentucky Derby. It's a true romantic comedy scene, dependent on the rhythm of the actors and the chemistry of the leads. We start with the wide shot, and Kirsten and Orlando are immediately "on." I'm ecstatic. This is the true beginning of their love story on film. Kirsten and Orlando have spent just enough time around each other to be comfortable, they have obvious repartee, they joust with each other naturally, and the scene explodes with rhythm and humor. Kirsten finds a great comic tone as Claire, and the scene has never been better. I play music on the set and during their takes, sometimes just to surprise and jolt the actors. These two have always responded to it – it's part of our process together. Today, I tried super-upbeat stuff to throw them off-guard, music they wouldn't even listen to themselves, stuff like The Monkees, or obscure soul music. It works, but as we move in for closer shots, I switch to something more intimate and confessional. Immediately I can see something shift in Kirsten, she goes to a very private place before we film. We start filming and suddenly her Claire is darker, more interior, very private. At first it doesn't even feel like the character, but soon I can see what she's doing – this is the raw Claire beneath, and this is the pain that her character keeps tucked away. For the next few minutes, she shows it all, all the layers… It's a fascinating take, and I'll probably use a piece or two from it in the final edit. This is how finely tuned she is an actor. I make a mental note to be careful with the music I play during her takes… she's an amazingly instinctive actress, and what she hears gets into her artistic bloodstream, instantly. It's a blast working with Dunst, there's nothing wasted in her acting. Next I try a song I know is a favorite of Kirsten's – she absorbs that and turns Claire's emotions inside out, right on camera, again. It's all there, right in her eyes. All day long, men on the crew take me aside and say, "I want to meet MY Claire… " I've been waiting to put her on film as Claire for a very long time. We turn around on Orlando's side of the scene, and the chemistry is complete – his Drew is confounded and enchanted by the richness of this girl. Finally we have the "Wagner's" scene on film and it's better than it's ever been before. We have peaked on the right day.
Now we head up into the hills of Kentucky for the completion of the "Red Hat" scene – a scene where the two characters meet after an all-night phone call. Both actors rip through their takes, and we all go home tired but happy and, of course, ravaged by mosquitoes who laugh at our feeble attempts to repel them with spray.
July 23, 2004
Bono fever strikes E-Town! I can't wait to talk to Kirsten today because I'd had a late-night revelation. Sometimes, particularly in a car scene, you can be separated from your actor by a great distance. It's important to start building our shorthand. Standing in Louisville's Cave Hill Cemetery today, the most beautiful cemetery in the world and the site of an incongruously upbeat date between Drew and Claire, I tell her what I think is a great rule of thumb for our communication about the role of Claire. Like some of my favorite characters, she is a warrior of positivity. Claire is a character who'll never let you see her cry – she'd much rather go home, shut the door, and spare the world the trouble. She is on the planet to help others… until someone realizes she's in need herself. It's a fun part for Dunst, and she naturally makes the sunniness of the character interesting, but here's my revelation. If ever she's in trouble with the character, or lost on how to play something, even in the middle of the scene, here is the map back to safety – more love. This is a character that is pure and simply a messenger of love. I want her to know it, and I tell her, and she responds immediately with a quick nod. That's all it takes. I'm enjoying working with her, and this is my best day with her ever. We're just about to film this sequence, a sequence that was always supposed to happen on a sunny day and, of course, suddenly a loud crack hits a few miles away.
Thunder and rain start to sprinkle, and then downpour hits within about three minutes. "Let's wait out the rain," yells the a.d. I see Kirsten head away from the camera, and as someone else pops open a zebra print umbrella… it hits me. The sequence should be shot in the rain. "Let's shoot it now, let's use the umbrella." Dunst snaps it open, and Orlando shouts happily, "let's do it," and we're off. Their first take in the rain, approaching the unique grave of a beguiling local part-time magician, works beautifully. We're off and running. It will be a sequence in the rain, and the sun… using the summer storms that flash through Kentucky as the backdrop.
Many hours (and rain delays) later, our day ends. Twenty-three separate shots, three scenes, a montage in the rain and a close-up on a new character – the urn. My most productive day… and week… ever. I hope it all feels as good later as it does at this moment. I'm not sure, it's all blended into one music-and-rain filled Kentucky blur. Good night.
July 27, 2004
A group of fans have started to camp out around the Brown Hotel.  They are me-fans, and it's the first time I've had anything like this. There are three or four of them, and they have signs like "You Had Me At Cameron" and "Cameron for President."  They are sweet, and they keep showing up outside our shooting locations.  I think they're good luck, as we ease into the shooting of some very difficult scenes at the Brown.  These are the scenes that establish the lobby of the hotel, and the environment of the middle part of the movie.  This is when filmmaking is also math, and a lot of time is spent figuring out where lights will go, who will stand where and when they will do what, and move to what other spot, and though this too goes slowly, Kirsten and Orlando are dead-on.  We're all happy to have a new player, Allison Munn as the front desk girl Charolette.  She arrives with a bright comedic spirit and completely nails the part of the busybody concierge/hostess of the hotel, with a secret crush on Drew.
July 30, 2004
Summer thunder and lightning is crackling overhead. Who knows if we'll get the shot by the Ohio River today, or if we'll head up there and wait it out, like last time. We'll leave Kentucky as we arrived, happy victims of weather and heat and the iconography of true American soul. We're a long way from the hermetically sealed world of film making in California – thank goodness. "Are you coming back to this part of the country?" someone asked me. The answer is yes. Starting in Kentucky was essential to this movie, and another instance where a change in plans served us (originally we were starting filming in Los Angeles.) Now I know how to proceed, to always remind everyone where we've come from, where we started with Elizabethtown, and I want to come back here and show the movie first. Kentucky has treated us well, and we all fell in love. Everything that happens from here should grow from what happened here. Kentucky is the soul of the movie.
August 2, 2004
The Memphis filming arrives and we start early in the Arcade Restaurant. Drew sits and has a bowl of chili – "the best in the world." We then jump across the street to Earnestine and Hazel's, a legendary bar where the great blues and soul musicians of the sixties used to gather. The bartender/owner is named Russell and we'd met him on an earlier location scout. Russell is one of those guys who reeks of history and tradition and quiet love of music. He's hung onto this now-famous dive of a club for years, and the photos on the wall are priceless and as indelible as the grease-stained walls they hang on. I wrote Russell into the script after the location scout, and though he was supposed to be on a fishing trip today, he's here and still seems surprised that I actually do want to film him. "I thought all you Hollywood guys were bullshit, that you just wanted me to give you a deal on the place…" But it's true, I want to film him as much as the place, and he stands here at his bar talking about the great Stax musicians of the past and Albert King and BB King and Elvis, and it's pure Gold.
After Earnestine and Hazel's, we head down the street to the Lorraine Motel, where Martin Luther King was assassinated and where today rests the National Civil Rights Museum. It's a hallowed, spooky, liberating and sobering spot. I'd come here years ago in the '80s, on tour with my wife's band, and visited the Lorraine. The neighborhood was in bad shape then, and the Lorraine was still an existing hotel, almost flophouse. A young girl in a red dress had chased my rental car down the street, saying to me, "What are you looking at? Why did you come here?" I'd never forgotten it, or that feeling of looking up on that balcony where Dr. King was shot dead, and I'd written this into the movie too as a place where Drew visits.
I've always gotten emotional here, even on the recent location scout where we planned out shots, but today I'm disconnected in the way that I'm sure I need to be. We have a lot of work to do, and originally we'd just wanted to shoot the outside, but after visiting the museum I wanted to include that too. So, working closely with John Toll, we have the run of the museum and we work through the inside, moving upstairs to the powerful spot where King's last motel room is preserved. Orlando is particularly strong today, and deeply captures the feelings I'd always wanted. It's a lot about him realizing the insignificance of his own problems, and seeing a bigger picture of life, and it's all there in his eyes.
I'd wanted to include Jackie, the last resident of the Lorraine, who lives out on the corner in protest to the gentrification of the once very poor neighborhood. She's lived on that corner, with a small stand proclaiming that the museum and preservation of the Lorraine is an insult to King – "this shouldn't be a tourist stop for the rich" she told me on our last visit. But today I never get as far as even asking her to be filmed. She turns her back on us the entire day, facing away, and she won't even take a small donation from me. "I won't sell out to Hollywood," she tells me. "Johnny Cash had nothing to do with Dr. King." I explain to her that we are not the Johnny Cash movie, and tell her a little about my own movie, and she thinks about it for all of two seconds. "I still won't sell out and I won't take your money."
We finish the day shooting from the actual balcony where King was murdered. Standing on that very spot is not part of the tour, but we're allowed out there for filming. It's a theme I've often written about – the spirits of what has come before are still present in the place where events once occurred. It's true in life, true in my own experience with my dad, and it's true of that corner where King last stood. You cannot stand on that spot and not be affected. It's an emotional Bermuda Triangle, it sucks you into feelings far far greater than yourself. Standing on the balcony is something I will never forget.
There is still a little light left in the sky, and we race across downtown to an alley John Toll, Orlando and I had discovered on a dinner visit to the Butcher Shop steakhouse two nights earlier. We shoot Orlando in the alley—it's a nice transition piece to have in the editing room. It's a wrap on Memphis. Tomorrow will be our toughest logistical day, so we all return to the Peabody Hotel for a quick sleep and an early morning flight to Arkansas.
August 3, 2004
The flight to Arkansas is delayed because of fog, and we're also a longer way to the filming site than we'd anticipated. The site is Dinosaur World, a bizarre bit of Americana, and the world's largest collection of man-made dinosaurs. The goal is to shoot the Dinosaur Park in the morning and then race to Beaver Bridge for the filming of the Mississippi from a gorgeous bridge we'd found months earlier on a scout.
We get through the Dinosaur Park but it's a hard shoot with not a lot of time. With two units blazing under the hot hot sun, and all possible bugs devouring us, even through the repellants we're all mixing and matching and overusing, we get through the Dinosaur Park with just enough time to race onto Beaver Bridge.
Beaver Bridge is where all the pent-up emotions from the Lorraine start to hit me, and everybody else. We need to film Drew dancing alone here. When we get here, there are many tourists and locals waiting. This was a location that was widely published on the internet, and the "embarrassing dance" will actually be seen by many. Orlando worries a little bit about it, but only for a moment. He quickly puts the shrieks of nearby fans out of his mind, and I try out a piece of music. He's going to do the dance in a hall of trees just by the bridge, and then afterwards we'll move onto the bridge itself.
Something happens in that hall of trees. Call it the music, or just the growing internal life of Orlando as Drew, but in one take this young actor's whole working life seems to take a leap. It's one of those breathtaking moments you dream of in a movie – and I hope I'm not jinxing it by writing this – but watching it, a whole raft of feelings start to well up. I can feel my dad, my own family, all the intentions of the script, start to come together. And when the take is over, Orlando bounds back with a soul full of oxygen and excitement and pride. He knows it, too. It's a truly great moment, and we move onto the bridge. More greatness follows. I can't help it, some tears squirt out as I watch Orlando walk proudly back down the bridge. Looking around, I'm not the only one dabbing tears.
We shoot until the sun disappears over the river, and fog starts to roll in. We squeeze three or four more shots into these waning moments of sunlight. John Toll knows how to shoot a place like this, and it's the first movie we've been able to infuse with this kind of imagery. What a great day. "This was something," says Toll. We return to the Best Western on the outskirts of town, and the hotel restaurant stays open late to accommodate us. We all sit together in the restaurant, still savoring the day. We are truly on the road together now.
A breakthrough happened in that shady grove of trees just off Beaver Bridge. Even today, just minutes after the breakthrough happened, I knew I'd be back to that grove and that bridge. Many breakthroughs happened, and many barriers were jumped on that site. The seeds of all we saw and felt in Memphis made themselves known on that bridge. We continue onward, filled with bug bites and happy/sad exhaustion, and I really wouldn't want it any other way.
August 7, 2004
Scottsbluff, Nebraska. This is the sequence we've nicknamed Drivin' and Cryin'. It involves Orlando as Drew being hit by a wave of emotion he didn't expect. Here on the Nebraska flatlands, the emotion catches up with him. He laughs and cries, and in the middle of nowhere, he gets hit by a freight train of feelings. In one of my conversations with Orlando when he was making the Ridley Scott movie he'd mentioned casually, "I'm not sure I can cry on demand." I put it out of my mind at the time. Today, I'm wondering if it will be a problem, or at least something that we spend a lot of time working out under that huge sweltering sky.
Speaking of the sky. It's really beyond words, this Nebraska sky. Music sounds different here. Everything feels different here because the bigness and the spaciousness naturally fills you with thought, and a sense of where you fit in the big picture.
Listening to the radio on the way in, a local station is right on the money. "Tuesday's Gone" by Lynyrd Skynyrd is playing, and I'm not sure I've ever loved the song more than I do on this day. Driving down the stretch of road to the Scottsbluff Airport base-camp where we'll start to tow the car and film Orlando's big sequence—trying to forget that it's a huge moment in the movie and we've got to get it right and what if we don't… The feeling of the song just washes all that other stuff away. "Tuesday's Gone" sets a bar for authenticity and raw honesty for the whole day… and I can't help but let some old feelings wash over me. Van Zant was one of the first artists I'd met as a young journalist who really believed, and read and rooted for my writing… I wrote about him a lot, knew him well, and we pay him tribute in the movie. When the song is over, the disc jockey announces that Lacy Van Zant, Ronnie's father, had passed away recently. That's big news. Ronnie talked about Lacy a lot, was deeply influenced by the dad who ironically outlived his powerful and poetic son. It's a lot to think about and remember. There is a lot going on here in Nebraska, it's in the air. It's in the 2000-mile stare in the eyes of most of the crew as I arrive on the set at just after seven AM. Woody and Herb Ault and John Toll will still be rigging the car and camera for some time. It's already hot, and that big sky beckons, so I decide to take a walk.
When you're the director, nobody likes you to take a walk. Taking a walk means many things. First, if a question arises on the set and nobody can find the director, that's bad. Second, if you're an on-set p.a. or assistant director, and you didn't notice where the director was walking or that he even left the set, that's bad. This is something you can lose a job over. Third, directors taking a walk usually means something bad… There are stories from the seventies of directors who took a walk, and didn't come back for hours. This is also bad. So even though I want to take a walk, alone, I can see heads turning and walkie-talkies rising to mouths as I round the bend into the Nebraska flatlands.
But really I just go around the corner, to the other side of a garage, and start to write notes for the scene ahead. What do I want from Drew in this scene? I've written a million notes about this scene, for the last two years, in my directing notes. Now the day is here… the car is almost ready… and the message that comes back loud and clear is this: be free. I write this down. Be Free. I decide that the pen is a lucky pen, and I will only use this pen for the rest of the day.
Be free. That's the theme for today.
I feel peaceful and centered after the walk. I go to Orlando and he's getting ready. "Here's my direction for the day," I say. "Be Free," I say, probably a little grandly. He looks at me agreeably, but a little strangely, like I've just announced, with great discovery in my voice, "The sky is blue!" "Okay," he says, "got it."
I'm ready for the scene. I'm completely ready, and confident and centered and peaceful. And I have a plan.
The first take goes a bit too much in the solemn vein. There's been a lot of solemnity in this sequence already. Instinctively, I look at Ana Maria, and we have a shotgun conversation filled with the non sequitur of people who've now been working very closely together and know the language. "It's good but… " "Yeah, you're right…" "It should be more…" "Yes." During a break to reload film, I explain it to Orlando like this. "It needs to be more joyous." He gets it. We too have our shorthand. The take is great. For minutes on end, Orlando drives and cries and laughs. Now we're on the right track. Pause to re-load film again. Orlando now is on the verge of his second big breakthrough, and we can all feel it. On the break, by the side of the road in Nebraska, he asks me what's next. I tell him this, "In band terms, we've already got the scene, you've played Madison Square Garden, it went great… twenty thousand people were there… now is the next night, it's Poughkeepsie, the pressure is off, now is when you go wild and try all kinds of new stuff, it's only three thousand people and no one is reviewing the show, it's just for you and the fans. Let's go there."
He gets it.
When I get back to the insert car, John Toll is clearly on the same wavelength. "He should do the dance in the car," says John. The same direction, just more succinct. We're all in sync. "Do the dance in the car," I tell Orlando just before we roll.
And this take is the one. It's all about high highs and low lows. It's an iconic image, and I twist the monitor over to Woody, who's sitting next to me, and we just watch, both of us welling up. After the take, a quick consultation with Ana Maria. Do we need him crying, just sobbing? We look at the last take from the day before, and put the sequence together in our minds. We don't need the obvious, he's done it, and we've captured – I'm sure of it – the soul of Drew's emotional unburdening. "We got it," I say, and the small machine adapts and prepares for the next sequence. A big part of the movie is in the can. It's crazy and it's wild and here under the hot Nebraska sun, we're right on schedule to grab another couple of shots of him driving, just before lunch. Then it's out to the peak of Scottsbluff.
We end the day at sunset on the mountain peak overlooking the North Platte River, with a close-up of Drew walking to the tip of the overlook. John Toll is clearly loving the light, we all are, and at the absolute zenith of near-sunset, a strange realization happens as I work through my shot-list. I'm finished.
"It's a wrap on the Sojourn," I announce, and it probably sounded like a question because there was a lot of work to do, and there certainly had to be more we needed to do, but… we'd done it all. Even though there are months left to film, it does feel like an ending to a hard charge across these states, chasing the highs and lows with pared-down crew and a lot of ambition for catching the beating heart of the movie. I catch a ride back with John Toll. We sit and listen to the radio while the driver drives us by the refurbished classic theatre they've just about re-opened here in Scottsbluff. I'd love to take the movie here… but that's a long way off. As of tonight, we've completed an important part of the movie. The reverberations continue throughout the whole story, and now it's on film. The silent communication with Toll is sometimes our best conversation. We did it. And I'd like to think that the cheer that greets my announcement is purely about the great shots we've gotten, and the performances that we're getting… but it's not. It's also about something else. Our crew is exhausted from hauling, raising, moving, tweaking, towing and then packing back up again, all to hit the mark we've just hit, with virtually no hitches along the way. A crew cannot do this by accident, they pretty much have to be… as Russell the Memphis bartender had said of James Brown… hungry. They are hungry, this crew, but they are also actually hungry, as in no food too. This is not just a Tired, but it's a Great Tired… and by tradition, a Great Tired cannot be rewarded by sleep.
A wrap party for the Sojourn is hastily assembled for the crew. The invitation is passed out, "Soul Journ celebrates it's last stop on the road… " The party takes place at Whiskey Creek, a steakhouse across the street from the Holiday Inn Express where we're all staying. We take over the restaurant and there is an explosion of love and a feeling of accomplishment… mixed with intense hunger, of course. The food is good, and we all wolf it down, while recapping the work we've just done. Orlando signs autographs out front, and after staying a while, goes back across the street to rest up. Tomorrow morning he begins his road trip back to California. In one way or another, we all make a pact. We must continue this feeling into the rest of the movie, even though we'll have to carefully preserve the feeling of Kentucky and Nebraska, and Memphis and Oklahoma and Arkansas, and protect all these emotions as we continue filming in Los Angeles. It won't be easy, but after what we've been through, it may not be that hard either.
I love it when life blurs with the movie. Just like in "Day for Night," it's all one big experience. I suspect that the fun of the blurring is why we're all here in the middle of Nebraska, with sweat-filled shirts and shorts, standing here at the Whisky Creek. This is the best part of the job… that and the part where I will show all these people the movie they worked on, and hopefully we'll all see that there along the edges of each scene, is a record of the vibe we were all able to create while making it. Each movie, in it's own way, is a diary of the experience you had making it. "I don't know," says John Toll as we're standing here, "there's something happening with this movie… "
August 11, 2004
Sitting on my porch outside the bedroom tonight, I realize that I'm becoming addicted to this journal. The process of writing is a freeing thing—it puts everything in perspective and allows you to say and feel things that you didn't fully comprehend at the time. Today was our first day back after the Kentucky leg and the sojourn. I'm really proud of this film crew. Everyone is thoroughly exhausted—how could they be anything but—but somehow arriving and seeing your cohorts there, even at seven in the morning, starts the adrenalin pumping again. It's a funny thing about making a movie. The set and the relationships, the gossip and the dramas and the drive of the work we have to do, it's all there from the first minute you arrive and suddenly, you're back in the jet stream. It's only now, just before bed, that the full weight of the day hits you. Yes, that's right, I'm tired! But the thousand decisions of the day, and the pressure of the big clock ticking override all. You are never more awake then you are facing a day of work.
We all showed up today with a glint in our eyes. We accomplished a lot. Yesterday, John Toll and Kirsten and Scott Robertson and others all put together a quick location scout and a rehearsal. We were all beat… even cranky… but today, it all slipped away when we saw each other and held our script pages. There was a lot of talk about the two days we had essentially to ourselves, a lot of hails for "Collateral," which many of us had seen… and we set about getting Claire's apartment together for the filming of the next sequence. Claire's apartment is beautiful, a work of art by production designer Clay Griffith (who I've worked with since "Say Anything," when he started as my assistant) and set decorator Robert Greenfield. It's easily my favorite home set since Dorothy's home in "Jerry Maguire." John Toll starts lighting the place, and we're all still buzzing over the sojourn and being back together. Then Kirsten hits the set—it's a full day with her working and no other actors—and we start shooting. Suddenly we all simultaneously realize—oh yeah, this is work, you have to wrench these scenes into working some times. Kirsten, the consummate professional, takes a take or two to snap back into full Claire, and the same can be said of us. We all need a take or two, and then—boom—we're back. The day continues at a furious pace, with me pitching new script lines at Kirsten just moments before she acts them. It's pure fun, pure adrenalin. "This is fun," Kirsten keeps saying. And it is. She's wearing a pink Maker's Mark shirt, a reminder of our solid-gold time in Kentucky. And though she says she was happy to have gotten settled in her house while we were on the road, you can tell that she's happy to be back.
On the way home tonight, Andy and I talk about what's happening. We detail a few of the problems, but it's searching for something to be worried about, the natural state of a director. After a few minutes of this, Andy blows the whistle. "You know what the big problem is," he asks. "Nothing." Quietly, we both agree that it's true, and leave the fretting behind.
I think what we're all most excited about is that we've been able to preserve our spirit from Kentucky and the road. Some of the crew is gone, other new ones are arriving, the movie is definitely taking a turn for the more personal, more interior, and everyone seems to know the common goal—we can't slow down, we can't get complacent. And sure enough, we forge ahead and finish the day slightly ahead of schedule. Now, sitting on my porch, my old friend exhaustion returns, but exhaustion sure is easier at the end of a day like this. Better put a lid on this quick. We all know what happens after you declare victory too early – that's when the bullets start flying. So I'll just chalk this up as a great day, and duck back into the foxhole until tomorrow.
August 16, 2004
It's Orlando Bloom's week. The day starts on Paramount stage 16, and the smell of movie history is in the air. It's a big sound stage, rich in layers and equipment and baffling and computer monitors and who knows how much cinema history. I like working on this lot because it feels like the most old school of all the Hollywood studio lots. This is the one that is the most like it always was, you can tell from the historic photos from the days of Preston Sturgis and Howard Hawks and Wilder, of course. I like the whole idea of doing a comedy for Paramount Pictures. I've even brought some film scores from the romantic comedies of the '60s, stuff to play to set the tone for some of the scenes.
The set is a larger version of a room at the Louisville Brown Hotel, and the idea is that this is where Drew goes at the end of his longest day, the day in which he's met much of the family he never knew, and faced his dad in the casket. It's an 18-page sequence, a very long phone call with a lot of dialogue, as Drew juggles phone calls from four different people, most of them at the same time. It's a lot of dialogue, probably more than I've ever had in a single sequence. Judy Greer and Jessica Biel are on hand to do the off-camera, and we set up a black screen in front of them so that Orlando will be able to talk and act with them, but not see them (because they're on the phone.) I love these actresses, they're funny and fearless physical comediennes who also happen to be beautiful in very different and complimentary ways. It's a real buzz to see them on the set, sitting next to each other, both of them with books to read in the downtime, and both of them here to support Orlando for his big sequence. (Not all actors make themselves available for "off camera" on phone calls scenes, and many of them request to do it on the phone. Greer and Biel were both anxious to go the extra mile and do it in person.) We make a plan to do the phone call in manageable chunks. Orlando tells me that he didn't sleep much the night before. That makes two of us.
And then Orlando does something truly unbelievable. We set up to shoot the "master"—which is the wide shot of the entire scene, in which Drew roams the hotel room—and we're fully expecting our leading man to tackle in it in pieces… but as we start to rehearse the scene, Bloom does the entire scene. The entire scene. Pages and pages of dialogue. And he does it with relish. This is what you call dedication to craft, and a love of the part. He's a remarkable actor. And watching him today, I keep thinking—he's just getting started.
He's already done so much in the movie, and now he shows us the deep loneliness of Drew and the verbal dexterity as well. By the end of the day, we've dug deeply into the scene, covering it from many angles. My favorite is a side-angle, shot by John Toll on a floating handheld camera. I'd told Toll I wanted some handheld in the sequence, to give us a "fly on the wall" feel. Toll, who began as one of the best operators ever in his field, is operating again. Back to the roots. It's a great thing for all of us to remember on the movie. It's a back to the roots movie for many of us, a personal movie with a minimum of fireworks… but watching a master like Toll capture this scene, and Bloom's performance (he's a big Orlando fan, we all are) is like watching a master musician playing solo again, after years of performing with a band. Nothing beats the personal touch.
August 17, 2004
Dailies with Orlando tonight are inspiring. There is something about the texture of this movie that feels so right. And yet it always surprises me. If you look back at the classic American comedies and dramas made during the forties and fifties, even the sixties and seventies, there was a richness of texture. The movies just looked more substantial, or more accurately like life. I've got six notebooks of visual ideas for this movie, and storyboards too, and the many conversations with John Toll and the actors have had an effect. We're telling the story in every possible way, with framing and shots and performance. That was always our idea for this movie, from the first time I told John about the movie, on the way back from our Gap ad. Tell the story in every frame of the movie. And we knew we needed someone who could tell the story in his face. "You've got the right actors," John says, "and it frees us to do more… " Toll has been a star at dailies too. Sometimes when a shot comes up from the previous night or week, voices in the screening room say, "Wow." It's been said before, but check out the corners of the frames, the way light hits the objects behind and around the actors. Toll is a painter.
I drive home tonight with ideas for tomorrow, like importing more music into our on-set iTunes that I know will effect and inspire Orlando when I play it on the set. I'd mention the songs here, but I'll probably end up using a few of them and I want it to be a surprise.
August 23, 2004
Oh baby. Home stretch on the all-night phone call. We're gonna have to rock this week. First up, a scene on the balcony with Drew. We knock it out and move on into the world of Chuck and Drew. Chuck is the emotional and often-drunk groom-to-be who is also staying at the same hotel as Drew during his visit home for the memorial/funeral. Chuck, played by Jed Rees, a Canadian actor I'd loved on the "Chris Isaak Show," arrives with deadly comic instincts, and wails on this part. It's a welcome event because the part had been tough to cast. Serendipity shines on "E-Town." Rees was born to play Chuck, the perfect compliment to Orlando's Drew. One can't cry. The other can't stop. Turning around on Orlando's close-ups, Neal Preston leans over to me. "Jack Lemmon," he says admiringly, watching Orlando try and get the crying groom to stop. Lemmon is a God on our set, and I love that Neal has invoked the name of one of our favorite deities.
August 24, 2004
Dunst returns and shoots a poetic scene in the hallway. This is one of the scenes that doesn't "mean" a lot, but it means everything. I've never had good luck with executives who cut out the in-between scenes like this one. It may not be necessary, but with the right music, it's essential. This is one of the days you feel quiet pride for knocking off one of your secret favorite "in-between" moments. We have a lot to shoot today, and the goal is to finish vaguely early so that the crew and equipment can get out to Pomona, where we're filming the next day's work. Dunst ends the day with a bathtub scene on the phone, the final shot in the Drew/Claire sides of the all-night phone call. It's her first bathtub scene in a movie. There is much prior discussion about the kind, the size, the style, the EVERYTHING about the bubbles in the bath. Even Kirsten has ideas about the bubbles – we agree that this will be real-life bubbles, not Doris Day movie bubbles, impossibly fluffy and perfectly covering private parts in a way that nobody ever bathes in life. I have a picture in my notebook of a bathtub, and a pair of feet sticking out of it, and I show it to Dunst. "These are the bubbles I like," I tell her. She looks at the photo and immediately identifies the level of bubbles. "Subtle bubbles," she says with appreciation. "Let's go with subtle bubbles," I say. "Subtle bubbles" ricochets throughout the set, and into the various departments. Dunst later slips into a bath of subtle bubbles and hits the scene in her first take. We finish early, and the crew gets moving.
August 27, 2004
Much needed slow day as we shoot Drew and Claire in the car, against green screen. Kirsten gets behind the wheel, surrounded by green. "You'll drive, and then Tobey'll drop down right over here," I say, making my first Spiderman joke. (She laughs.) Dunst does some nice work, acting apprehensive and nervous as she drives to meet Drew. Then Orlando arrives and does some driving pieces for the sojourn. There's a moment where he peers over the wheel, and looks into the sky that really hits a note. It's one of those times when, as you're watching the take happen, it feels like you're watching the movie. The week ends on that moment of poetry.
August 28, 2004
I talk to Susan Sarandon on the phone. She's re-entering the world of Hollie, flying in tomorrow. She's excited. The Hollie phase of the movie is now on the near horizon. These sequences, like the family oriented ones in "Almost Famous," will need personal investment to be real, and truthful, and I know I'll be digging into family memories. I have a Joni Mitchell quote on my desk on the making of Blue. It reads: "(My goal was to) dig deeper, so that it felt like truth… and maybe I could shine a light into some dark places that felt familiar to people who didn't often get that feeling from popular music at the time." Good to remember, huh?