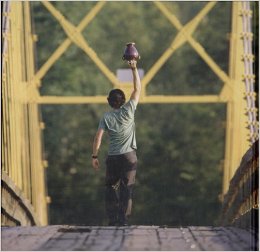 to all past and present hi-fi members:
bob here wishing you and yours the happiest of holidays! we want to thank you for becoming a hi-fi member and offer a heartfelt thanks for sticking with us through all of our growing pains. that's not to say that they are over and done with, but we promise you that we will move mountains to make sure you get the absolute most out of your web experience at cameroncrowe.com. there's lots on the horizon for next year. you'll be excited at what's coming. to all of you who still miss the extra personal touch of "the uncool," so do we… and get ready.
that being said, we need your help. there's a certain 'elizabethtown'-related item on a certain internet auction site that has sold for close to $200 (actually, a few have sold for close to that!). we implore all hi-fi members – DON'T BUY IT! there's a special package that we're putting together (we've been hinting at it for months and months now) that is ready for shipping to each and every hi-fi member as a small thank-you for putting your faith in us.
so with that in mind, i need you to do me a favor and email me your current mailing address. we'll be sending these via fedex ground, so unfortunately a post office box won't suffice – it has to be an actual address. the last thing we would want is for us to send this package to an old address, or the wrong address. if you get the chance, please shoot me an email at [email protected] with your full name and current address, and we'll send your package out to you right away!
we're all very excited about all of the fun things to come in 2006 at cameroncrowe.com, and we hope you'll come along for the ride!
best,
bob