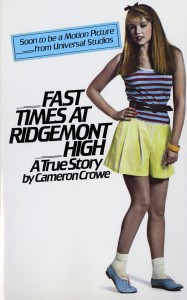 Cameron recently about the out of print book with the San Diego Union-Tribune.
Fast Bucks
Grabbing a copy of "Fast Times at Ridgemont High" (the movie) on the Web is cheap enough — a couple of bucks, tops, for a used copy.
A copy of "Fast Times," the book? Now that's going to hurt. Anybody seeking a used volume at online auction sites is looking at $50 or so for a paperback, a cool $200 for the hardcover.
And we do mean anybody.
"I've had to buy it on eBay once or twice," admits Cameron Crowe, who is only the guy who wrote the thing.
Crowe called last week to talk about the extraordinary Oscar legacy of the "Fast Times" film, based on his 1981 book about a year spent undercover at Clairemont High here in his hometown. (If Forest Whitaker wins the best actor trophy this year, he'll be the third cast member from the scrappy '82 movie to eventually earn that honor, after Sean Penn and Nicolas Cage. Our story on that topic runs in Sunday Arts on Feb. 25.)
On the subject of the book, now long out of print, Crowe (himself an Oscar-winner for writing 2000's "Almost Famous") acknowledged he hasn't exactly discouraged its scarcity.
"There's something about the fact that when you see a copy of it, it's usually dog-eared and been passed around," Crowe says, comparing it to old vinyl records. "I like that it's very personal and kind of a keepsake.
"In this world where everything is super-available and pitched to you in every way, I like that 'Fast Times' the book is sort of something that's passed between friends."
Passed with, we like to imagine, the following exhortation (our apologies to another of Crowe's movies): "Show me the money!"
Courtesy of the San Diego Union – Tribune – Jim Hebert – February 12, 2007