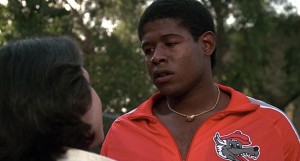 Cameron discusses the Fast Times pedigree of Oscar winners with the San Diego Union – Tribune (the latest member of the Oscar club is now Forest Whitaker).
Saluting The Honors Class at Ridgemont High
He had just landed his first part in a movie, and as Forest Whitaker headed back to his car after the audition, the film's director glanced out a window to see the actor "skipping and sort of jumping up in the air" as he crossed the Universal Studios lot.
That image stayed with Amy Heckerling so vividly that, years later, she wrote the scene into a movie.
Heckerling has had plenty of opportunity over the years to marvel over the making of "Fast Times at Ridgemont High," her low-budget teen flick based on Cameron Crowe's 1981 book about life at San Diego's Clairemont High.
If Whitaker wins the Oscar as best actor tonight for his performance in "The Last King of Scotland" – and he is a clear favorite – he would be the third "Ridgemont" cast member to achieve that honor.
Sean Penn, who created the apex of dude-i-tude as stoned surfer Spicoli in "Fast Times," took the lead acting trophy in 2004 for "Mystic River." Nic Cage, who had a tiny part as a fry cook (and was billed for the first and only time as Nicolas Coppola), won in 1996 for "Leaving Las Vegas."
That's not to mention local boy Crowe's own Oscar, for writing the semi-autobiographical 2000 film "Almost Famous."
Not a bad legacy for a movie that could barely catch a break even at its own studio.
"There was always a possibility the movie would never come out," says Crowe, whose mom still lives in San Diego. "Somebody on the board at Universal read the script and said, 'If this movie is made, it will be the end of the incredible legacy of Universal Pictures.' "
Because teen movies weren't yet the staple they are today, "Ridgemont" had little competition in attracting 1982's hottest young actors. Crowe remembers seeing Matthew Broderick, Rebecca DeMornay and Scott Baio. Heckerling says Ralph Macchio and Michelle Pfeiffer came in.
As soon as she auditioned Whitaker, who had done mostly stage work, Heckerling knew she wanted him in the cast. In fact, she got into trouble with producers for offering him the minor part of the football hero Charles Jefferson on the spot.
"But I thought, who's going to come in better than that?," she recalls. "And we're lucky to have him willing to say two lines here and there. He was a very powerful actor, even as a teenager."
Whitaker's signature line in the movie – what was initially to be his only line – comes in a scene where a fellow student dares to touch Charles' precious muscle car.
"Don't (mess) with it," he hisses, in so many words.
Crowe says Whitaker's version in rehearsals sounded different than the way he had imagined it while writing the script.
"But it was the work of a professional who has a take that enhances what you wrote," Crowe says. "That was Forest. He was a wonderful actor even then. Humble, generous, no attitude."
Looking at what the "Fast Times" cast has wrought since, Crowe observes that "what's funny is the loners have been the ones to bust out. Sean was a loner on the set. Nicolas was a loner. He was so shy."
Twenty-five years on, Heckerling admits that audiences' lasting fondness for the film "blows my mind." (Its mere mention got a big ovation when Whitaker hosted "Saturday Night Live" in mid-February.)
The success of Whitaker and the others, though, is less of a surprise.
"When I saw 'The Last King of Scotland' – and God knows I've seen everything Forest has been in, he's been amazing – it just hit me: 'Oh, this is an Oscar.'
"And then I go: 'This is my third alumnus. If I was a college, everybody would want to come.' "
She laughs.
"Wouldn't you want to send your kid there?"
Courtesy of the San Diego Union – Tribune – Jim Hebert – February, 25, 2007