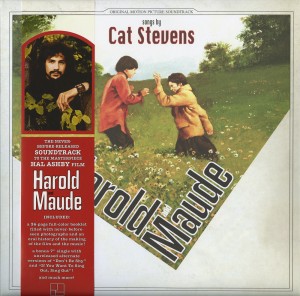 The amazing soundtrack for Harold and Maude is finally coming on vinyl courtesy of Vinyl Films Records. Details below.
"What was interesting was, I'd done that project, I'd kind of put it behind me. But then, over the years it's just taken on so much importance. It's a milestone, and a part of people's memories, which they love… and I love it too. Other things disappear or assume smaller proportions. Harold and Maude just gets better and means more and more. It's the rarest thing. A film that gets better with age."
-Yusuf
Finally.
The never-before-released soundtrack to the masterpiece Hal Ashby film.
Vinyl Films Records is honored to announce the release of the Holy Grail of unreleased soundtracks, Harold and Maude. Thirty-six years after its initial release, every one of Cat Stevens' masterful songs from the film are compiled in one incredible package. In addition to such classics as "Miles From Nowhere", "Where Do The Children Play?" and "Trouble", the album includes the two songs written specifically for Harold and Maude, "If You Want To Sing Out, Sing Out" and "Don't
Be Shy", along with alternate versions of both Harold and Maude tracks.
Over two years in the making, the Original Motion Picture Soundtrack to Harold and Maude comes with an extensive 40-page full-color booklet filled with never-before-seen photographs and an oral history of the making of the film and the music, as told by the filmmakers and participants. Also included is a bonus 7" single with unreleased versions of "Don't Be Shy" and "If You Want To Sing Out, Sing Out", two suitable-for-framing posters, and much more!
Available only on 2500 copies of Limited Edition Vinyl. In stores this Thanksgiving.
Tracklisting:
Side One:
Don't Be Shy
On The Road To Find Out
I Wish, I Wish
Miles From Nowhere
Tea For The Tillerman
I Think I See The Light
Side Two:
Where Do The Children Play?
If You Want To Sing Out, Sing Out
If You Want To Sing Out, Sing Out (banjo instrumental)*
Trouble
Don't Be Shy (alternate version)*
If You Want To Sing Out, Sing Out (instrumental version)*
Bonus 7″
Side A:
Don't Be Shy (demo version)*
Side B:
If You want To Sing Out, Sing Out (alternate version)*
* previously unreleased