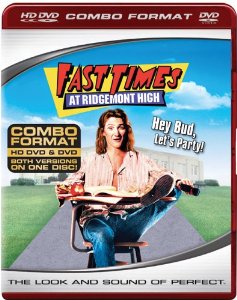 I'm sure that many of you are following the High Definition Format War (HD-DVD vs. Blu-Ray). They boast superior picture (1080p), sound (Loseless audio) and extra features. So far, this has only been relevant to a small number of movie watchers (early adopters/film buffs with HDTVs). These early adopters have picked sides and it's been pretty ugly at times for something so silly. The big Consumer Electronics Show (CES) is coming up next week, so hopefully everyone can play nice (or studios will change sides, declare exclusivity, etc.) and we can finally get one format.
Anyways, I wanted to provide you an update on which of Cameron's films are available on the next gen DVD format(s).
Fast Times is available on the HD-DVD format (since Universal is currently HD-DVD exclusive).
I'm most excited about Almost Famous (which was recently announced in the UK, Germany and Japan for Blu-Ray). It seems that all three versions overseas will get the Bootleg Cut. It's very confusing as Paramount/DreamWorks owns the rights in the U.S. (which means HD-DVD only), but Sony holds the rights in most other countries (which means Blu-Ray). Also, Japan and the USA are in the same region, so if you have a U.S. Blu-Ray player, it will play the Japanese Blu-Ray! It also seems that UK release will be "all regions" and will also play on a U.S. Blu-Ray player.
Jerry Maguire has been rumored for Blu-Ray (Sony/Columbia is Blu-Ray exclusive) in the U.S. for quite some time (hopefully with all the extras from the 2 DVD set), but no formal announcements have been made. No word on Singles (Warner – which currently releases for both formats), Vanilla Sky and Elizabethtown (both Paramount owned and currently HD-DVD only)…stay tuned for all the latest news on this evolving soap opera