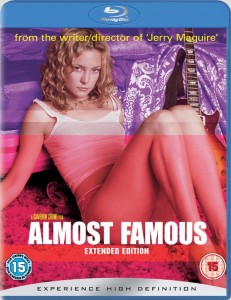 I was very excited to see the UK release (Sony Pictures) of Almost Famous arrive in my mailbox today! I thought I would provide a report as I know many of you are interested.
The BD is all regions. So it will play on all U.S. machines. This is the "Untitled" version. The picture quality is stunning. It's a certainly a significant step up from standard DVD. Your HDTV will be smiling!!!
Audio quality is also great. The BD includes True HD 5.1
Extras are slim, but this may be a rights issue overseas. The BD includes the Lester Bangs interview and B-sides (now titled "Love Comes and Goes") from the Bootleg Cut DVD. No other extras are included (except for trailers from Across the Universe and Close Encounters of the Third Kind).
Now that the format war is all but over (Best Buy, Netflix and WalMart all announced they would only support Blu-ray in the coming months), I'm hopeful will see more of Cameron's films on Blu-ray soon….but this will definitely hold me over until then!!!!!!