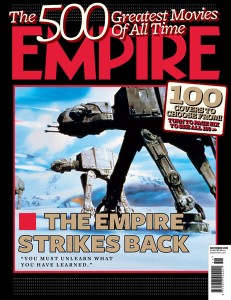 Empire Magazine has just published their 500 Greatest Movies of All Time. The films were chosen by readers, critics and a panel of Hollywood insiders (including Quentin Tarantino, Sam Mendes, Mike Leigh, Guillermo Del Toro, Pedro Almodovar and Cameron Crowe).
Here's the Top 10:
The Godfather (Francis Ford Coppola, 1972)
Raiders of the Lost Ark (Steven Spielberg, 1981)
Star Wars Episode V: Empire Strikes Back (Irvin Kershner,1980)
Shawshank Redemption (Frank Darabont, 1994)
Jaws (Steven Spielberg, 1975)
GoodFellas (Martin Scorsese, 1990)
Apocalypse Now (Francis Ford Coppola, 1979)
Singin' in the Rain (Stanley Donen, Gene Kelly, 1952)
Pulp Fiction (Quentin Tarantino, 1994)
Fight Club (David Fincher, 1999)
FYI. Almost Famous landed at #142 and Jerry Maguire made the cut at #420.