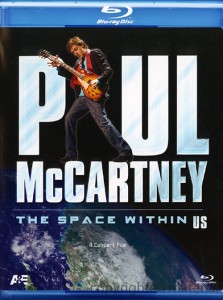 Another excellent Blu-ray is on the way(November 18th)…If you recall, the original DVD has liner notes from Cameron and this Hi-Def version will as well.
Paul McCartney: The Space Within US BLU-RAY EDITION
In 2005, rock legend Paul McCartney crossed America with his record-breaking, sold out US tour. Now, harnessing the power of more than 25 hi-definition cameras and the thunder of 5.1 digital surround sound, PAUL McCARTNEY: THE SPACE WITHIN US captures this epic experience on Blu-ray.Better than a front-row seat, this feature-length concert film takes viewers onto the stage and beyond, capturing Paul's out of this world performance–which was beamed to the astronauts aboard the International Space Station who wake up to some "English Tea" with Paul and the band through a live feed from the tour.
Songlist: Magical Mystery Tour / Flaming Pie / Maybe I'm Amazed / Eleanor Rigby / Let Me Roll It / Drive My Car / Got To Get You Into My Life / Till There Was You / I Will / Fine Line / Good Day Sunshine / Fixing a Hole / Hey Jude / Too Many People / Penny Lane / English Tea / I've Got a Feeling / Follow Me / Jenny Wren / Helter Skelter / Yesterday / Get Back
Extras Include: Sound Check Songs "Whole Lotta Shakin' Goin' On," "Friends to Go," and "How Kind of You"; More About US–Extensive Interviews with Paul McCartney, the Band, and the US Tour Crew; US Tour Pre-Show Film; On The Road With US; Liner Notes Introduction by Cameron Crowe; Song Selections