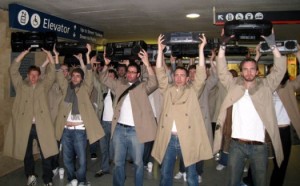 Hopefully you got your 20th Anniversary edition of Say Anything… on Blu-ray or DVD. A bunch of stories hit the Internet to celebrate and I thought I would share them with you.
As you can see, an army of Lloyd Doblers took over New York to promote the release. There's a nice recap over at Big Picture, Big Sound.
A look back at Say Anything… with Cameron was in a recent issue of Entertainment Weekly and is now in the Press Section. It's definitely worth a read.