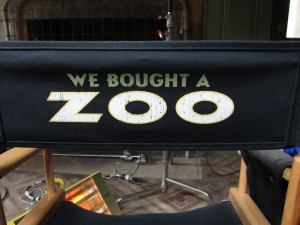 I was fortunate to visit the set of We Bought A Zoo and thought you might enjoy hearing about my  few things I've learned, along with some of my own opinions.  I also wanted to share a few pictures that I took on set and I promise they will not spoil the film for you.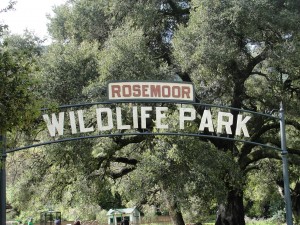 1. Changes – While Benjamin Mee's book is the inspiration for the film, Cameron has rewritten the original script with many of his own touches. Some character names have changed, the location has been moved from England to Southern California and the name of the Zoo has changed from Dartmoor Zoological Park to Rosemoor Wildlife Park. Benjamin Mee is aware of these changes and is on board.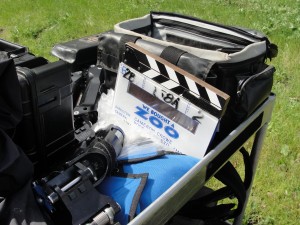 2. Technical Details – Film purists, don't need to worry. Cameron is not going digital. We Bought A Zoo is being shot on film with Cameron's preferred aspect ratio of 1.85:1.
3. The Kids – Wow. What can I say. I was privileged to see the young actors working (Colin Ford (Dylan Mee), Elle Fanning (Lily) and Maggie Elizabeth Jones (Rosie Mee) and they are something special. As usual, Cameron and casting director Gail Levin have found some gems. Great acting chops, heart and humor were on full display. As for the rest of the cast, I watched various scenes being filmed with Matt Damon, Scarlett Johansson, Thomas Haden Church, John Michael Higgins, Angus MacFadyen and Patrick Fugit. This eclectic cast was having a lot of fun and the chemistry on set was evident.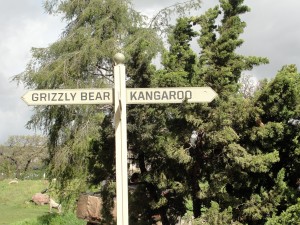 4. The Production Design – Clay Griffith and his team have done an amazing job with the creation of the Zoo and Benjamin Mee's house. The attention to detail is staggering. The house looks like it's been there for fifty years and the Zoo "feels" like a real, live working animal sanctuary.  I cannot wait to see how it looks on the big screen.

Rodrigo Prieto
5. The Look – Cameron's new partnership with Director of Photography Rodrigo Prieto looks to be a winning combination. Rodrigo has shot some gorgeous films in the past (Biutiful, Babel, Lust Caution and Brokeback Mountain to name just a few) and it was exciting to watch their collaboration on set.
That's it for now, but there will be plenty more to come as we inch closer to the finish line. Don't forget that We Bought A Zoo will be released by 20th Century Fox on December 23, 2011.