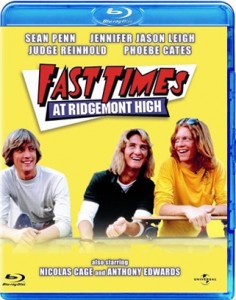 It seems that the Fast Times at Ridgemont High Blu-ray may finally be seeing the light of day. A UK release is scheduled for July 25th by Universal. The UK cover art is pictured above (funny how they are focusing on Spicoli and his buds with specific mentions of Nic Cage and Anthony Edwards). Expect Universal to also release the Blu-ray in North America and other countries this summer.
I don't expect any new extras, but it will be great to see Fast Times in "high" definition 🙂 I thought I would be the first (of many) to do the corny "high" joke…
Stay tuned for contining coverage of the Fast Times Blu.