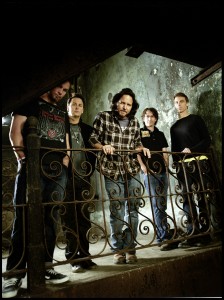 It's a big day if you are a PJ fan. Pearl Jam Twenty will make its television debut as part of PBS's American Master series on October 21st. Cameron's documentary was culled from more than 1,200 hours of archival footage (along with more than 24 hours of footage that Cameron shot). The photo you see above is the first released still from the documentary. In addition, Pearl Jam has announced a 2 day festival concert in East Troy, WI for Labor Day and a ten date Canadian tour! On top of that, a few more details have emerged about the Pearl Jam Twenty book and soundtrack. This info comes directly from Pearl Jam's official site:
PEARL JAM TWENTY SOUNDTRACK -Columbia Records/Sony Music will release the Pearl Jam Twenty soundtrack in conjunction with the film's theatrical release. Cameron Crowe selected the track listing for the soundtrack — making the album a true companion piece to the film.
PEARL JAM TWENTY BOOK – Published by Simon & Schuster in the U.S. and Canada and Atlantic Books in the UK, Australia, New Zealand and South Africa, the Pearl Jam Twentybook is an aesthetically stunning, definitive chronicle of the band's past two decades. The book was compiled and written by veteran music journalist and current "Late Night With Jimmy Fallon" music booker, Jonathan Cohen, with Mark Wilkerson (author of "Who Are You: The Life of Pete Townshend"), designed by Pearl Jam in-house designer Regan Hagar (also the drummer for Brad and Satchel), with a foreword by Cameron Crowe.