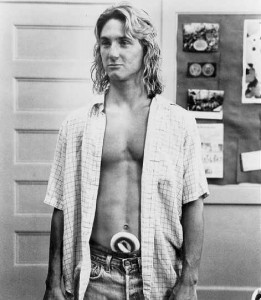 The Crowe's Nest is a feature that collects random tidbits, etc. in one blog post. Here's the latest:
Many of the stars of Fast Times at Ridgemont High gathered for induction into the Guy Hall of Fame as part of Spike TV's Guy Choice event. Cameron was unable to attend the taping on June 4th, but actors Sean Penn, Judge Reinhold, Brian Backer, Robert Romanus, Forest Whitaker, and director Amy Heckerling appeared together onstage in L.A. to accept.  You will have your chance to see it this Friday, June 10th on Spike TV. Check your local listings.
Contributors to the Pearl Jam Twenty companion book coming out on September 13th include Bruce Springsteen, Dave Grohl and Neil Young. Cameron is providing the foreword. The book was compiled and edited by authors Jonathan Cohen and Mark Wilkinson. It will include personal drawings, behind the scenes photos and much more chronicling Pearl Jam's twenty years.
The Dallas Film Society will include Almost Famous as part of a free outdoor screening series. Almost Famous will screen on October 15th. More details can be found here.
Reader Jon Sholly dropped us a line to share his entry into a recent Indianapolis film festival. Local designers and artists are asked to create posters that reinterpret films from all eras. They are then sold to raise money for the festival. Jon choose Almost Famous and I thought you'd like to see his poster. Pretty cool, huh?