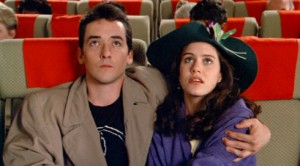 As you probably know, Cameron mentioned on Saturday at the TCA press conference for PJ20 that Say Anything… was the only film of his that he'd ever consider for a sequel. Here's the direct quote:
"It's the only thing that I've written that I would consider doing that with. "I've thought about it from time to time and talked about it with John Cusack once and just said this is the only story that I kind of think there might be another chapter to that at some point."
It seems that every online site has taken the story and run with it. I find the whole thing pretty amusing. This is not the first time it's been discussed. As far back as this interview in 2000, Cameron has mentioned that the film has characters that he wouldn't mind revisiting. Here's a more recent quote from Paste magazine in October, 2005.
"I used to think for a while that it would be the one movie I'd do a sequel to, because there was more to be said about Lloyd. Then I went to see High Fidelity, and I thought, "You know what, that movie says a lot of the things that I would probably want to say in a sequel to Say Anything…, so congratulations, it exists."
That quote seems to suggest that Say Anything 2 hasn't ever really been close to reality and was merely something he considered at some point. Bottom line is that I wouldn't get too excited about this either way. There's no Say Anything… 2 script lying around and my opinion is that another adventure with Lloyd Dobler probably isn't in the cards. Just an honest answer to an interesting question…