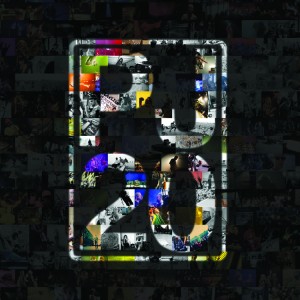 You've been waiting patiently and the tracklisting for the Pearl Jam Twenty soundtrack was unveiled throughout yesterday via a Twitter scavenger hunt on PJ20.com. These clues were scattered all over the world and the first person to correctly identify a song was awarded with a limited edition PJ20 poster. Here's a pic of the clue for "Black" which was displayed at Times Square. Kind of a Vanilla Sky moment, huh?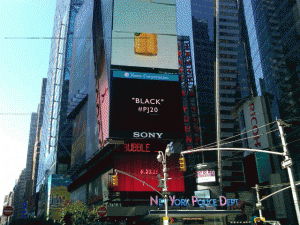 The soundtrack features 29 songs spread over two CD's when it's released on September 20, 2011.  A vinyl version is also forthcoming. Disc one is dedicated to songs featured in the film, while disc 2 focuses on demos and rarities. The soundtrack was curated by Cameron and will feature his liner notes and track by track thoughts. Here's the details:
Disc 1 – From the Film PJ20
Release – Verona, Italy (9/16/06)
Alive – Seattle, WA (12/22/90)
Garden – Zurich, Switzerland (2/19/92)
Why Go – Hamburg, Germany (3/10/92)
Black – MTV Unplugged, NYC (3/16/92)
Blood – Auckland, New Zealand (3/25/95)
Last Exit – Taipei, Taiwan (2/24/95)
Not For You – Manila, Philippines (2/26/95)
Do The Evolution – Monkeywrench Radio, Seattle, WA (1/31/98)
Thumbing My Way – Chop Suey, Seattle, WA (9/6/02)
Crown of Thorns – Las Vegas, NV (10/22/00)
Let Me Sleep – Verona, Italy (9/16/06)
Walk With Me (with Neil Young) – Bridge School Benefit (10/23/10)
Just Breathe – SNL, New York (3/13/10)
Disc 2 – Rarities and Inspiration . . . 
Say Hello 2 Heaven – Temple of the Dog Demo, 1990
Times of Trouble – Demo, 1990
Acoustic #1 – Demo 1991
It Ain't Like That – Demo 1990
Need to Know – Demo, 2007
Be Like Wind – McCready Score 2010
Given To Fly – McCready Instrumental 2010
Nothing As It Seems – Demo 1999
Nothing As It Seems – Seattle, WA (10/22/01)
Indifference – Bologna, Italy (9/14/06)
Of The Girl – Instrumental 2000
Faithfull – Pistoia, Italy (9/20/06) (Soundcheck)
Bu$hleaguer – Nassau, NY (4/30/03)
Betterman – New York City (5/21/10)
Rearview Mirror – Universal City, CA (10/1/09)