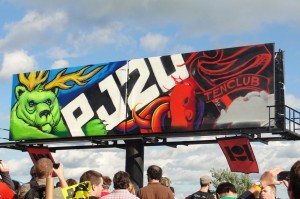 I'm back from the PJ20 Destination Weekend at the Alpine Valley Music Theatre  in East Troy, Wisconsin! While Cameron was unable to attend, I thought you might like to hear a bit about the event. I was able to secure 10 club (as a proud member of Pearl Jam's fan club) tickets for both nights. The first great surprise was the extra goodies included with all 10 club tickets (PJ2o stickers, an early PJ Live show on CD and a Jeff Ament CD single from his forthcoming solo album).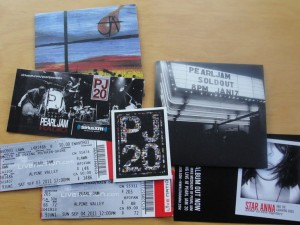 The first night I was on the lawn and the second night I had pretty good reserved seats on "Stone Gossard's" side of the stage. Simply put, I thought the shows were amazing. Night #1 was a shorter set (28 songs), but filled with a ton of rare B-sides including "In the Moonlight", which had never been played before. Highlights for me included the emotional opener "Release", "In My Tree" plus both Singles tracks "State of Love and Trust" and "Breath". The 2nd night was a longer set (33 songs) as the band started their show 30 minutes earlier. The crowd emotion was unforgettable, the fans sang along loudly to every song and the band really fed off that energy all night. I've never seen the band having more fun and the set list was a great mix of hits ("The Fixer", "Daughter/It's OK", "Alive", "Even Flow", "Given to Fly") and rarities ("All Night", "Habit", "Satan's Bed", "No Way"). Both nights featured a Temple of the Dog reunion with Chris Cornell. Something I didn't think that I'd ever see.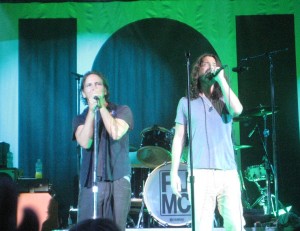 Many other PJ hand picked artists were on hand to celebrate and perform. I'm a huge Glen Hansard fan (If you haven't seen the film Once, please see it immediately) so his sets both days were a huge highlight. Also thought Liam Finn and his sets were fun and energetic. Here's a few pics I took (including a duet that Glen did with Eddie on the song "Falling Slowly").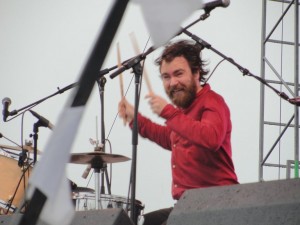 Lastly, I'll leave you with a video from my highlight of Night #2 (via a fan at the show). An absolutely searing version of "Spin the Black Circle" which shook the 30,000+ fans in attendance. Watch Mike McCready doing circles around the stage for nearly the whole performance. The song was dedicated to the dying breed of independent record stores across the country. As Eddie put it, we need to keep watering them and keeping them alive.