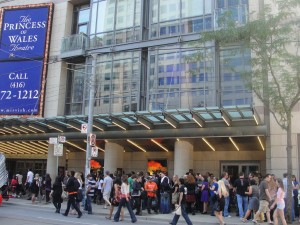 That's right. Pearl Jam Twenty had its world premiere yesterday at 2pm (EST) at the beautiful Princess of Wales Theatre in Toronto as part of the  36th annual Toronto International Film Festival. In addition to the 1,500 fans, Cameron, Jeff Ament, Matt Cameron, Boom Gaspar, Stone Gossard, Mike McCready, Eddie Vedder and Chris Cornell were in attendance.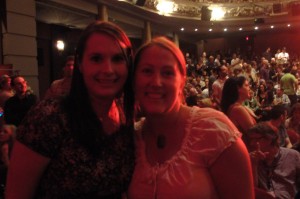 The energy and the crowd were tremendous. PJ fans such as Jennifer and Tanya (pictured above) waited in line for 8 hours to get a front row seat. There were bursts of applause throughout and certainly some tears as well. The venue was an absolutely gorgeous place to host the event and the recently installed sound system was stunning. Here's a few pictures that I took as Cameron and the band arrived.
Over the next few weeks, I will be posting video footage from the press conference with the band and Cameron that was held after the screening. Since the press conference deals with some spoilers from the film, I'd like to wait until many of you have seen the film.