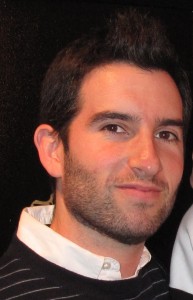 We conclude our interview with PJ20 author Jonathan Cohen as we discuss challenges, the design of the book and the music. We hope you enjoy it.
I know you had access to Cameron's original interviews for the movie. Did you have a plan to make the book a companion to the movie or was it designed as a stand alone thing?
We never really had a discussion about it. Obviously, because Cameron gave us his interview transcripts, there is some overlap in dialogue between the film and book. He had so much good stuff that he couldn't use in the movie. When he turned over his interviews, I indexed his transcripts and created subject headers and/or topics. For example, when talking about "Daughter", I would find an Eddie quote, then I would grab a Stone quote. I would then be able to combine it with the stuff I already had. I really think that helped us make the best use of the stuff that was available to us.
Was there any topic or event in PJ's history that was difficult to get a definitive answer on?
There are a few blank spots in the early period of the band's concert chronology. We really wanted that nailed down. Is this actually their third show or fourth show together? We were able to get most of that sorted out.
Also, the story of how Eddie got the demo tape has been told in numerous forms and that became a bit of an untangling process. The version in circulation was pretty close, but not technically accurate.
How did the overall design or look of the book get decided?
All the credit for that goes to Regan Hagar for making everything make sense as you turn the pages. Jeff Ament and Eddie Vedder had a lot of input as well. I really like the collage look of the book a lot. Not a lot of the pictures have captions, but it makes almost more immersive as you might be reading about Pearl Jam and Neil Young jamming together and the picture of them together might be a few pages later.
What's your favorite Pearl Jam album?
No Code because it's a clear dividing line between the two eras of the band. I love how the introduction of drummer Jack Irons changed the band's sound. They became groovy and just kind of loose. I just love the material on that record. It definitely threw some of the casual fans for a loop because it really didn't sound like the previous three records. That record, is a flashpoint for the hard core fans. As the casual fans dropped off and the hard core stayed and got to say, "Yes, this is really my band and I'm going to follow them where ever they go creatively."
How about a favorite concert memory?
Wow. That's a tough thing to decide. I'm going to say the Santa Barbara Bowl show in the Fall of 2003. It was the first time that Chris Cornell sung "Hunger Strike" with the band in like eleven years. Jack Irons played at the show. It felt almost like the end of a certain era there too.
What about your favorite Pearl Jam songs?
I'm definitely more drawn to the rockers like "Last Exit", Brain of J", "Life Wasted", "Habit", "Mankind", "Hail, Hail". That's my bread and butter!
What's next for you?
Nothing planned as of now. Back to Late Night with Jimmy Fallon. It's been a wonderful experience and I thank Pearl Jam and everyone immensely for being a part of this.
Special thanks to Jonathan Cohen and Nicole Vandenberg for helping with this interview. The PJ20 book is available now! It includes an introduction by Cameron, along with interviews with Bruce Springsteen, Neil Young, Neil Finn and Dave Grohl. It's filled with a wonderful pictures and mementos from Pearl Jam's twenty years and is published by Simon & Schuster.