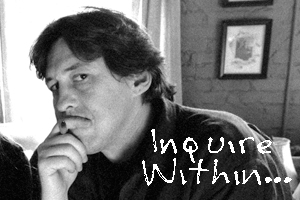 Welcome to another edition of Inquire Within… Through your submissions, Cameron will answer your questions in his own words.
Doug Shiloh (Rockford, IL): Two of your major films Vanilla Sky and Jerry Maguire (which are favorites of mine, by the way) delve into redemption for people who were in the kingdom of greatness, one way or another. How do the new documentaries further your look into this territory (Leon Russell's return seems to be part of this). What is it about the theme that grabs you?

Cameron: I think many of the great heroes in history, from Winston Churchill to Steve Jobs, were cast out of the kingdom of greatness.  Their life-defining work sometimes happens upon their rugged return to power.  That theme has always grabbed me.  It's very easy to throw in the towel, but sometimes a simple refusal to give up leads to a whole new life.  This theme began for me with Brad Hamilton's story in Fast Times at Ridgemont High.  The fast food king was able to return with a simple twist of fate… the unexpected help of the person he least expected. Spicoli.   When we first saw Fast Times on a big screen with a paying audience, it was that moment that caused people to applaud in the audience.  I never forgot that.
And it's even a theme in Pearl Jam Twenty.  When many of their contemporaries were giving up, and giving up on the band itself, they kept going… and found the passionate audience that keeps them alive today.  Thanks for the question, Doug.
Please send in your questions for Cameron and maybe yours will be part of a future installment of Inquire Within…