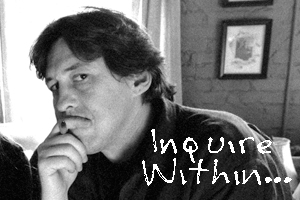 Welcome to another edition of Inquire Within… Through your submissions, Cameron will answer your questions in his own words.
(Doug Goodwin & John Myers): Given your musical background, In Jerry Maguire – was Jay Mohr's character name Bob Sugar in any way a tribute to Bob Mould and his post Husker Du band Sugar?
Cameron: It's funny, I get asked about this quite a bit.  Being a longtime collector of all things Husker Du and Sugar and Mould solo… there's a part of me that wants to say, yes, it's a tribute to Bob. But, there's actually another story behind the name, with a different musical slant.
I was in Dublin, Ireland, in July of '93, doing interviews with Pearl Jam for a Rolling Stone cover story timed to the release of Vs.  The band was playing at Slane Castle, with Neil Young and Van Morrison, and most of the groups were staying at the Mercer Hotel.  Most everybody ended up at a bar down the street named Lillie's Bordello.
One night Mike McCready and bunch of the PJ roadies had gathered there.  The place was packed.  The word was that the Rolling Stones were in town, and sure enough, the door swept open and in rolled guitarist Ronnie Wood with a small entourage.  As we were leaving, we bumped into him.  I had written about Woody for Rolling Stone too, and hadn't seen him in a bit.

The bar was loud, and Ron looked a little bit furtive as he yelled/talked over the music.  "I'm being followed!" he told us, looking both ways.  "There's a guy who is stalking me, and he finds me wherever I go.  I don't trust him, and he seems nice, but he scares me."  At this point Woody leaned forward, eyes widening.  "He says his name is… Bob Sugar!  Bob Sugar!!  Can you believe it????"  He seemed very emphatic about telling us the name, and we weren't sure why. Before long, Woody had disappeared into the night, but we couldn't shake the image of a rattled Rolling Stone being followed by a strange man named Bob Sugar.
All night and into the next day, we kept recounting the story, saying the name with horror.  We couldn't stop saying the name.  And then something occurred to PJ roadie Jeff Ousley. "Wait a minute," he said. "He didn't say Bob Sugar.  He said, 'BROWN SUGAR.'  We just heard him wrong."   We knew Jeff was right, between the noise and Woody's accent… of course.  He was being creepily stalked by a guy named Brown Sugar, after the song.  But the name Bob Sugar just felt so much better and so much more fun to say.  So we kept doing it.
When it came time to name the characters for Jerry Maguire, Sugar was the first one on the page.  The perfect name for a nemesis — it rolled off your tongue with ease.  Jerry Maguire came next, named in part after my first editor at the San Diego Door, Bill Maguire. Originally Jerry's wife-to-be was named Patty, but that never seemed right.  Six months later, after a thousand near-misses, the final name arrived and stuck — Dorothy Boyd. But the one that arrived first…remains as fun to say as it was the first time we misheard it. Gotta give Ron Wood credit for it.
That having been said, my next Bob will be dedicated to Mould.