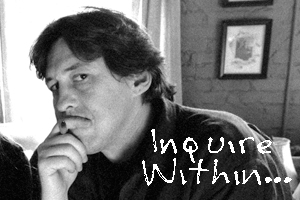 Welcome to another edition of Inquire Within… Through your submissions, Cameron will answer your questions in his own words.
Adam Labat.: Are either of Nancy Wilson's scores for Almost Famous and Vanilla Sky ever going to be available in their entirety like it is for Elizabethtown?  I really dig those cues and would love it if they were available for public consumption.
Cameron: We love getting this question.  Nancy's scores really complemented those movies, and the process of sculpting the cues was a joyful process.  In the case of Vanilla Sky, thanks to Jeff Greenberg at The Village Recorder, Nancy was holed up for months turning out whole soundscapes… much ended up in the movie, and much did not.  We have a busy release slate for this year but both of those film scores are never far from our minds and we hope to have them out very soon.  In the meantime, you can listen to or download "Cabin in the Air" from Almost Famous as a taste of things to come.
Please send in your questions for Cameron and maybe yours will be part of a future installment of Inquire Within…