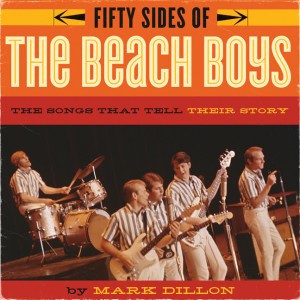 Mark Dillon's Fifty Sides of The Beach Boys – a new book that discusses fifty of the greatest Beach Boys songs – hit stores last month. In addition to Cameron, contributors to the book include the likes of Zooey Deschanel, Alice Cooper, and The Beach Boys themselves. In this excerpt, Cameron shares his thoughts on "Feel Flows":
Cameron Crowe on . . .
Feel Flows
Written by: Carl Wilson and Jack Rieley
Lead vocal: Carl Wilson
Produced by: Carl Wilson
Recorded: July 29, 1971
Released: August 30, 1971, on Surf's Up
Carl and Jack Rieley followed up their "Long Promised Road" collaboration with the powerfully atmospheric Surf's Up cut "Feel Flows." Continuing in a spiritual vein, Rieley penned impressionistic lyrics seemingly about the soul overcoming real-world sorrow. Whether it was poetry or "wacked out meandering" — as Village Voice critic Robert Christgau panned1 — Rieley's alliterative lines are wonderfully musical and delivered with conviction by Carl.
Most remarkable is Carl's production. The recording features an eerie forward echo on his vocal and an organ part run through a Moog synthesizer and then played back simultaneously with the original part. He also applied a variable-speed oscillator to the piano track for an out-of-tune sound2 and laid down a menacing guitar break. He added a left-handed bass part so tricky that touring player Ed Carter had to read the notes when performing it live.3 Noted jazz musician Charles Lloyd, a Transcendental Meditation practitioner who played with the band throughout the decade, added flute and saxophone — the finishing touches to a stylistic tour de force that displayed a level of creativity not heard from the group since Smile.
With its jazzy solos and mystical aura, the number is unique in The Beach Boys' canon. It's great stoner music that sits comfortably on the soundtrack of Cameron Crowe's acclaimed movie Almost Famous alongside contemporary songs by The Allman Brothers Band, Led Zeppelin and Lynyrd Skynyrd. Released in 2000, writer-director Crowe's autobiographical film dramatizes his experiences as a teenage Rolling Stone correspondent in the 1970s. He uses the song twice: over the closing credits and in a scene where protagonist William Miller (played by Patrick Fugit) meets band hanger-on Penny Lane (Kate Hudson) after conducting a backstage interview with a fictitious rock group. In one evening, William has experienced his big professional break and meets a girl who will have a profound effect on him. With emotions running high, the inclusion of "Feel Flows" feels just right.
"To me, this song is about the human experience — the giddy high-highs and the aching low-lows and all those glorious spots in between," says Crowe, who won an Academy Award for his screenplay.
"Feel Flows" is similarly admired by Nancy Wilson, the Heart guitarist who scored the film and who was married to Crowe at the time. In an August 2007 interview in The Believer, she explains that she and Crowe rediscovered the song while assembling the soundtrack. Surf's Up was, rather shockingly, out of print on CD at the time, so Wilson had to dig up a vinyl copy in the basement of her sister Ann, Heart's lead singer. The version in the movie was copied directly from vinyl, crackles and all.4
The tune got new life from exposure in the film and inclusion on its Grammy Award–winning soundtrack. Omitted from The Beach Boys' 1993 boxed set, it would pop up on the 2007 compilation The Warmth of the Sun, sequel to the group's Sounds of Summer -greatest-hits collection.
The Beach Boys figure in another one of the film's key scenes after William's sister Anita (Zooey Deschanel), no longer able to live under the same roof with their overbearing mother Elaine (Frances McDormand), hits the road with her boyfriend. Her parting instruction to her little brother is to "look under your bed — it'll set you free." There he finds a bag of classic rock records, including The Rolling Stones' Big Hits (High Tide and Green Grass), Led Zeppelin II and Jimi Hendrix's Axis: Bold as Love. But The Beach Boys get pride of placement: Pet Sounds is at the top of the pile.
"Every time I'm lucky enough to make a movie I always end up pressing a copy of Pet Sounds into all the actors' hands, and I just end up babbling and saying, 'Here's what it feels like to live; here's what it feels like to grow up. Let's try for this feeling,'" Crowe told the crowd at An All-Star Tribute to Brian Wilson. "That's the magic of Pet Sounds — even more than the greatest rock album, Pet Sounds may just be the greatest rock 'feeling.'"
For this book, Crowe considered selecting as his favorite Beach Boys song the Pet Sounds cut "Caroline, No," which in the 1970s Carl performed in a mellow, jazzier live version that appears on The Beach Boys in Concert. Another song candidate for Crowe would have been "Good Vibrations," which he used to underscore a disorienting chase sequence in the surreal thriller Vanilla Sky starring Tom Cruise. But no.
"A big part of me wants to pick 'Caroline, No' as their quintessential song, but the fact that Carl sings 'Feel Flows' makes it a kind of distant cousin to that wonderful earlier song," he explains. "'Feel Flows' has the happy/sad greatness that defines the group and the timelessness that allows The Beach Boys to tower over any attempt to classify them as simple poster boys for the California experience. It is the essence of the fulfilled promise of The Beach Boys and everything Brian envisioned for their creative journey."
Excerpt from Fifty Sides of The Beach Boys: The Songs That Tell Their Story By Mark Dillon, ECW Press 2012. All rights reserved. Used with permission from the publisher. Available at your local book store, Amazon or the iTunes store.