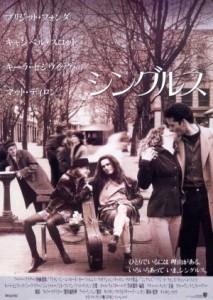 We are back with Part 2 of our look at Singles locations. Amazing how some things have changed, while others have stayed the same, huh?
Linda (Kyra Sedgewick) gets her car fixed at University Auto Repair (the bench was added). The name of the business has changed over the years, but it's still there at 5330 Roosevelt Way NE.
The Soundgarden concert footage was shot at the Central Tavern. The Singles wrap party was held at the Off Ramp Cafe (now the El Corazon) and Mookie Blaylock (later renamed Pearl Jam) played their first show here too.
Steve (Campbell Scott) and Linda had "water" at the Virginia Inn at 1937 1st Avenue. The location looks nearly identical to what is captured on film over 20 years ago.
The Pioneer Square Newsstand was built for Singles on the side of the J&M Cafe at 201 1st Avenue South in Pioneer Square. The J & M is still going strong.
Additional locations:
The Mother Love Bone graffiti seen in the alley at The Vogue (in Belltown) is now history. The Vogue moved to Capitol Hill and has since closed.
The Alice in Chains concert footage was shot at Pier 29 in a warehouse that the production turned into a club.
Jimi Hendrix's grave is located at the Greenwood Memorial Park in Renton.
Other iconic locations featured include the Fremont Bridge, the Seattle Center roller coaster (now gone), Gas Works park, Occidental Park and Pioneer Square (where the theatrical poster was shot).