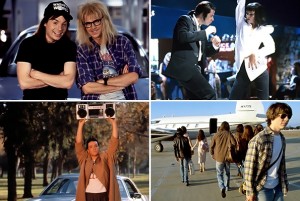 Rob Sheff from Rolling Stone recently shared his 30 Greatest Rock & Roll Movie Moments. It's a fun list and worth sharing with you all too!
The Ronettes – "Be My Baby" (Mean Streets)
The Beatles – "A Hard Day's Night" (A Hard Day's Night)
Peter Gabriel – "In Your Eyes" (Say Anything…)
Queen – "Bohemian Rhapsody" (Wayne's World)
Andrew Gold – "Lonely Boy" (Boogie Nights)
The Faces – "Ooh La La" (Rushmore)
CCR – "Lookin' Out My Back Door" (The Big Lebowski)
Chuck Berry – "You Never Can Tell" (Pulp Fiction)
Donovan – "Atlantis" (Goodfellas)
Spinal Tap – "Stonehenge" (This is Spinal Tap)
Elton John –  "Tiny Dancer" (Almost Famous)
Killah Priest – "From Then Till Now" (Ghost Dog: Way of the Samurai)
Alice Cooper – "School's Out" (Dazed and Confused)
Led Zeppelin – "Kashmir" (Fast Times at Ridgemont High)
Country Joe and the Fish –  "Section 43" (Monterey Pop)
Isaac Hayes – "Theme from Shaft" (Shaft)
Yardbirds – "Stroll On" (Blow-Up)
New Order – "Dreams Never End" (Carlos)
Rolling Stones – "Tops" (Adventureland)
Bauhaus – "Bela Lugosi's Dead" (The Hunger)
The Doors – "The End" (Apocalypse Now)
Otis Redding – "Try a Little Tenderness" (Pretty in Pink)
Iggy Pop – "Lust for Life" (Trainspotting)
The Pogues – "The Old Main Drag" – (My Own Private Idaho)
Motley Crue – "Home Sweet Home" (Hot Tub Time Machine)
The Doors – "Moonlight Drive" (Two Lane Blacktop)
7 Year Bitch – "The Scratch" (Mad Love)
Public Enemy – "Fight the Power" (Do The Right Thing)
Jesus & Mary Chain – "Just Like Honey (Lost in Translation)
Elvis Presley – "C'mon Everybody" (Viva Las Vegas)
You can read more details over at Rolling Stone's official site. What do you think of the list? What's missing? I submit "These Days" by Nico from The Royal Tenenbaums and "It Only Takes a Moment"  by Michael Crawford from WALL-E for consideration. What about you?