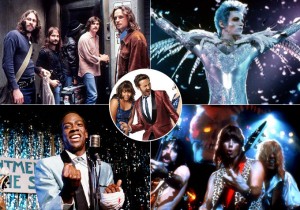 Indiewire shares their list of the 15 Fictional Bands That Rocked Your World. It's nice to see Stillwater on there. Check out the entire list below:
Autobahn – The Big Lebowski
The Big Band – Brothers of the Head
Banjo & Sullivan – The Devil's Rejects
The Blues Brothers – The Blues Brothers
DJay – Hustle & Flow
The Folksmen – A Mighty Wind
Hong Kong Cavaliers – The Adventures of Buckaroo Banzai
Marvin Berry & The Starlighters – Back to the Future
The Wonders – That Thing You Do!
The Rutles – All You Need is Cash
School of Rock – School of Rock
Sex Bob-omb – Scott Pilgrim vs. the World
Spinal Tap – This is Spinal Tap
Stillwater – Almost Famous
The Venus In Furs/Wylde Ratttz – Velvet Goldmine
What do you think? Anyone missing from the list? Share your thoughts!