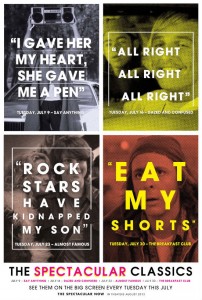 In conjunction with the release of James Ponsoldt's new coming of age film The Spectacular Now, there's a unique opportunity to see other classic coming of age films on the big screen. This includes two of Cameron's films (Almost Famous and Say Anything…), along with Richard Linklater's Dazed and Confused and John Hughes' The Breakfast Club.
These screenings (dubbed The Spectacular Classics) will include video introductions by the Spectacular Now writing team of Michael Weberand and Scott Neustadter. They will discuss how each film influenced their film and attendees will also receive a free ticket to see The Spectacular Now (out on August 2nd).
The schedule is as follows:
July 9th – Say Anything…
July 16th – Dazed and Confused
July 23th – Almost Famous
July 30th – The Breakfast Club
Here's the list of cities and theaters participating:
Boston – Kendall Square Cinema
Chicago – Century Centre Cinema
Dallas – Angelika
Los Angeles – Los Feliz
Minneapolis – Lagoon Cinema
New York – Landmark Sunshine
Philadelphia – Ritz Five
Seattle – Harvard Exit Theatre
Washington, DC – E Street Cinema
Tickets to this special event are available from each local theater directly, so please check with them via their website or box office. Lastly, check out a trailer for The Spectacular Now below.
ARVE Error: id and provider shortcodes attributes are mandatory for old shortcodes. It is recommended to switch to new shortcodes that need only url