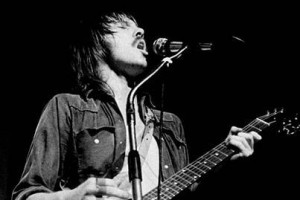 It's hump day and we've got a new addition to the Journalism section. Here's an interview Cameron did with Humble Pie's Steve Marriott back in 1973 for the L.A. Times. We hope you like it.
No Upper-Crust Pretensions for Humble Pie's Steve Marriott
With Humble Pie's eight album "Eat It" riding high on international charts and its current worldwide tour doing SRO business every stop, Steve Marriott, the spirited English rock 'n' roll band's lead-signer, song writer, guitarist and mastermind, is a man content.
His slight frame reclining comfortably in his Beverly Hills hotel suite, Marriott, 26, on the eve of Humble Pie's sold-out engagement at the cavernous Inglewood Forum Saturday night can blithely reflect on a long struggle toward the almost unattainable union of both personal artistic satisfaction and the mass acceptance he now relishes.
Once a child actor, in his years before forming the Pie, Marriott journeyed through the usual myriad small and big-time bands that most any ultimately successful musician does. Such diversity stylized groups as the Mississippi Five, The Coronation Kids, the Wheels, the Frantics, the Moonights and Steve Marriott and the Moments served as educating self-investments until the summer of 1965 when Marriott joined the Small Faces.
Fighting Frustration
Immediately thrust to the forefront of the British pop scene, Steve remained in the band close to four years as their fan focal point until eventually conceding to his dissatisfaction in early 1969.
"I left the band," recalls Marriott, "when I realized the gimmickry album tracks we were making and the record company was releasing as singles, like 'Itchycoo Park' and 'Lazy Sunday,' were doing much better than the things we really dug. After a while we found people were expecting the novelty-type records from us, and in actuality we weren't anything like that. We were all frustrated, but I just felt I had to do something about it."
The much publicized split was amicable and the Small Face went on to fill the gaping void with the addition of guitarist Ron Wood and singer Rod Stewart, as well as shorten their name to simply Faces. The rest for them, as they say, is history.
"The way I look at it," Steve muses, "if I hadn't left the group, they wouldn't be doing what they're doing now and I wouldn't be doing what I'm doing now. We're all very happy . . . and good friends."
The formation of Humble Pie in April '69 centered around Marriott and Peter Frampton, another well-known vocalist-guitarist refugee from the then-popular Herd, who had joined forces with knock-around drummer Jerry Shirley and former Spooky Tooth bassist Greg Ridley. It was a major move and an event the overzealous English rock press heralded as "the emergence of a new supergroup." While headlines blared and articles predicted imminent brilliancy, Marriott is the first to admit that the four musicians had drawn a blank as to their format or direction.
"We didn't know what we were gonna do. We were trying all sorts of things. What we wanted to do was go from acoustical numbers to jazzier things to electrical numbers and back again. We wanted to do everything we could do. We couldn't, no way, it was a practical impossibility so we ended very confused."
It was that very same confusion that plagued the group's two albums on the English Immediate Records label, "As Safe as Yesterday Is" and "Town and Country" (recently made available in America as a double-album, "Lost and Found"). Not until Humble Pie had switched to a new label, A&M, and taken on a new manager, Dee Anthony, did the band conquer its indecision and take a firm stand.
"When Dee Anthony took us over," Marriott once told a reporter, "he looked at our act objectively and as a result gave us a good boot from behind. He advised us that we should cut out the softer stuff and play our heads off instead . . . all solid, loud and crunchy. So that's just what we did."
Three well-crafted mainstream rock efforts followed, but the establishing of a high-powered framework frustrated the jazz and folk-rooted Frampton, who parted company with the Pie in '71 to pursue a solo career. His departure came at the precise moment the group was beginning to receive its hard-earned America recognition.
Courtesy of the L.A. Times – Cameron Crowe – September 9, 1973