We've got a brand new addition to the Journalism section today as Cameron chats with The Who's Roger Daltrey in this 1974 interview from Circus Magazine. Roger certainly was prophetic and this is over 40 years ago! You can also see how his philosophy has rubbed off on bands with longevity such as Pearl Jam. Enjoy!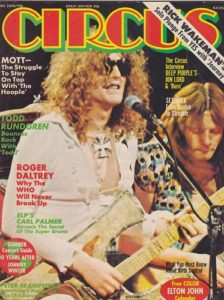 Roger Daltrey Tells Why The Who Will Never Break Up
A sleek 747 jetliner rose from the rain-drenched runway of the San Francisco International Airport and swung across the night sky towards Los Angeles. Roger Daltrey stared reflectively out the plane's window at the flickering lights outlining the Bay area. Many hours earlier, at the Cow Palace, The Who played before the first American audience they had seen in years.
It was ten years since the mop-topped microphone twirling singer first established a raucous band of English mods known as the High Numbers. Included in this noisy band was a solemn bassist named John Entwistle, a clowning drummer named Keith Moon and a beak-nosed guitarist named Pete Townshend. After a minor hit with a single called "I'm The Face," the group's name was changed to The Who. The rest, from instrument smashing to Woodstock to Tommy, is—as they say—history.
"Ten years," Roger said as he turned away from the window and sighed incredulously. "Ten years of this." He paused for a moment to adjust the paraphernalia in the seat pouch before him. Still an energetic ball of fire, Roger Daltrey is far from a weathered old rock and roll conversation piece. Just like his fellow band members, Daltrey is a professional in every sense of the word. "I used to wonder," he mused, "how The Who have been able to stay together this long. Now I know. We all know. Pete, Keith, John and I have learned to stick together when times are at their toughest. We learned that when things are tough it's precisely the time to stay at your closest."
Quad blues: Ironically, just as the aggressive vocalist spoke. The Who were entering that precise rocky ground they have learned coolly to endure. While the band is widely considered to be the ultimate performing unit, they had not set foot on stage in several years. The older material, standbys like "Summertime Blues," "My Generation" or "See Me, Feel Me," were flawless, yet Quadrophenia was having difficulty translating itself into a concert piece. The Who's newest double LP epic had been an overwhelming critical success on record, yet the spark was conspicuously absent in their debut tour appearance at the Cow Palace. Daltrey leaned back in his airplane seat, closing his eyes to the problems of touring, and dreamed of his quiet country estate in the hills of England.
The ten years of fame and fortune and fighting for the starlight have taken their toll on The Who, yet any other group would have split at the seams if they had undergone the tension The Who has endured. Although Roger could not have known it at the time he rode on the jet out of San Francisco, The Who would proceed from their shaky opening night to stunning, razor sharp brilliance, proving that The Who was still in top condition after a decade of showmanship.
"To me, the number one group is The Beatles," Daltrey declared, amid the droning of the jet's engines. "The Beatles reached the number one spot in four years. I think The Who are now where the Beatles left off. Not to sound blasé, but The Who are probably not as much a household word as The Beatles were, but in terms of the music we've surpassed them. But it's taken us ten years. There again, I believe there's something above number one. And if anyone gets there. The Who will do it. You see. The Beatles stopped. The Who won't. Definitely won't. It's a way of life for us."
Rock and roll is a way of life for Daltrey because he's a team player all the way. His passionate love for the 'just a singer in the band' role dates all the way back to high school days. "I was always in a group," he says through a thick, McCartneyesque accent. "Always. When I went to grammar school and met up with me first posh English accent I was barely a teenager. I thought, 'Well, the hell with his . . .' And I really became anti-social. I was a total non-conformist. All I wanted was to get back home to my friends and our band. They finally gave me the boot. Expelled me, the bastards did."
Free to flow: Roger is quick to praise the freedom within The Who that allows each member a solo outlet if they so desire it. "We just own up to the fact of what everybody can do individually. But no matter bow much Pete is a genius, and there's no doubt that he is, and however successful we become on our own, there's no way it could ever beat the collective force of The Who. I hate to sound overly patriotic about the group, but I'm afraid there's no other way to describe it.
"I can do my solo thing, John, Keith and Pete can do theirs, and it doesn't harm anyone or anything. All it does is help. It's all experience. Other groups, I don't know . . . they . . . it's very odd. Most of the pop people that came along in the same period that we came from were in the working class. The barriers against success were enormous, which is probably what made them so awfully good. It was such a huge hole to climb out of. But it seems to me that when they got out of that hole, they didn't know what to do with themselves. All you've got to realize is that you're always in a bleeding hole. Whether you got money or you don't."
Even though he doesn't write songs, Roger managed to record and release a fine solo effort last year. His album, Daltrey, was by far the most successful of all Who solo efforts. Tremendous foresight was shown by Daltrey's choice of unknown Leo Sayer to write his album's material. Sayer has, in recent months, emerged as one of the future's brightest talents.
Solo search: "I was pleased with the way the album went," Daltrey admitted as a stewardess passed out drinks to the first class section. "I just wish I could have gotten over to America and done some rap on it. I failed to get across to meet people that the one thing I was frightened of doing was taking something from The Who, which is what I would have done if I had made a rock and roll album. Everything I got I owe to The Who. Nobody else gets it, especially not Daltrey on his own. It was a very difficult decision, but I wanted to sing other people's songs for a change. I wanted to learn about other people's feelings and learn about different methods of singing." Was it a one-of-a-kind album? "It was a search album. I was just searching . . . and I enjoyed it. There's two ends to every stick. If I wanted to be in a heavy group. I've got the best group in the world to do that part of my music. But there again, there are certain songs that I like to sing in the shower. And they're not usually Who songs. The Who isn't that sort of group. And I think in music, you can have your cake and eat it too. They'll be more albums for me. When The Who has a few weeks off. I'll do another one."
Tommy future: While spare time, at the moment, will be devoted to the Ken Russell film of Tommy in which Roger will play lead, tentative plans call for a fully orchestrated "wall of sound" record of crooning 50's hits a la "You've Lost That Lovin' Feelin'." Roger, however, is still a bit hesitant. He was surprised by some of the critical reception that his first solo album received.
"I read all the reviews of the album," he confided, fastening his seat belt as the plane prepared for landing in the next city on The Who tour. "There were some really good ones and some really bad ones. The bad ones upset me a lot because I think they missed the meaning of the album. The critics tried to analyze the songs too much. 'He sings about giving it all away but he lives in a big country house.' If that's all they think you can give away, well, the hell with them. Those little things hurt because that tends to get personal. That's not constructive, that's just hatchet writing. It's a real bringdown.
'I wanted the album to be very simple. See, what I was basically worried about was the Rod Stewart situation where all Stewart's albums are great and the Faces albums aren't. It's the same musicians, so what's it all about. I think that situation is so disgusting. That's why I will never do a stage appearance on my own. I never have, apart from the Tommy orchestra production, which could hardly be an infringement on rock and roll. But I mean I've been offered amazing amounts of money to do solo things. But it's like I said, that part of me belongs to The Who. I don't want to be a star, I just want to be part of a good group, that's all.
Courtesy of Circus Magazine – Cameron Crowe – June, 1974