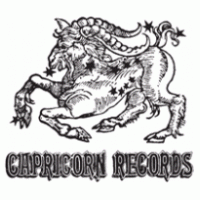 Cameron celebrated Capricorn Records 5 year anniversary for Circular magazine back in 1974. Capricorn was riding high with the success of the Allman Brothers Band at the time. The label would fold back in 1979 and then relaunch again in the 90's before folding again. Viva Capricorn!
Capricorn: Five Years Later – The Sound of the South Sounds Fine
Macon has rapidly moved into the forefront as the new musical capital of the South due to the highly professional and dedicated efforts of Phil Walden and Capricorn Records. Georgians are proud of this emerging image and of the quality of musical production from Capricorn.
I have proclaimed the month of August as "Music Recording Month" throughout the State of Georgia, and the Third Annual Capricorn Barbecue is a fitting way to initiate the month. – Georgia Governor Jimmy Carter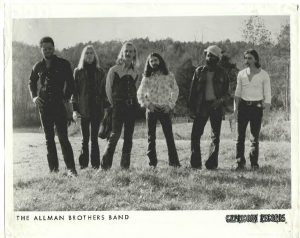 It's a long way Capricorn Records has come in the five years since their quietly, auspicious emergence in 1969. Casually named after President Phil Walden's astrological sign, the company began as a small Atlantic custom label with a one-artist roster. That single artist, a little-known session guitarist named Duane Allman, went on to assemble what was to become Capricorn's blues-rocking focal point: The Allman Brothers band. The group's hypnotic first effort, The Allman Brothers Band, served as a stunning debut release.
The road ahead proved a prosperous one, but not without turmoil. Duane Allman's death in a 1971 motorcycle crash came just as The Brothers were beginning to experience mass acceptance with At Fillmore East. Suddenly the band's personal life was thrown into mourning and their career into jeopardy. "We stuck together to survive," says Greg Allman in retrospect. "It was probably at that point that I realized what an invaluable friend we all had in the Capricorn organization." Only a year later, the closeness of that relationship would be tested once again with the death of bassist Berry Oakley. "By that time," reflects Allman, "there wasn't nothing gonna bust up the Family."
More Than A Label
Phil Walden emphasizes the importance of record company involvement. "It's crucial to become involved, to have a sincere interest. Most of the artists here eventually become tight personal friends. I think you've got to have that… I know you've got to have that."Throughout their existence, Capricorn Records has wisely and tastefully built from, rather than around, their highly successful Southern blues-rock base. Signing such diverse artists as Livingston Taylor, Alex Taylor, Martin Mull, The James Montgomery Band, Eddie Henderson and, later, even Kitty Wells, Percy Sledge and Elvin Bishop, the company seemed determined not to see Capricorn Records become a euphemism for "The Allman's Label."
"It was our objective from the very beginning," explains co-founder and executive vice-president Frank Fenter, "to have jazz, country, comedy and blues artists as well as rock. You can be a record label and produce one type of music, but you can't be a record company. We've always anticipated being a thoroughly involved company."
As we talk in the main Capricorn offices is located in the sleepy heart of downtown Macon, Fenter proves a flamboyant conversationist with more than a few theories on The Business. An Englishman who worked for Atlantic overseas in his pre-Capricorn days, the full-throttle passion Fenter exhibits in discussing his game plan has been more than justified by his track record. Toy Caldwell of The Marshall Tucker Band remembers walking into Frank's lunch-hour-emptied office and leaving the group's demo tape on the desk.  "We went back home to Spartanburg and the next day Frank was calling us up telling us to get our ass back down to Macon." Within a week, The Marshall Tucker Band were signed to Capricorn.
"We'll continue to sign artists," Fenter assures, "but without losing sight of our original objectives. Phil and I may have been cocky at the time, but, although I never expected the success so soon, we were convinced that we would do something new in this business. Our way. We've always agreed on how to run a record company and how you should treat artists. You see, I believe that a record company should make money along with the artists. It's not a one-way street. I don't think the artist should screw the record company once he gets big, and I don't think the record company should shaft the artist once it gets big."
Rolling Dice
According to Fenter, most of the artists signed are brought to the label's attention by other Capricorn musicians. "We never have gone out and actively pursued anybody in anyway. Capricorn is not into buying big names. We never have been and I hope we never will be. That's not to say that if a major act became available we wouldn't talk to them, but you won't catch us stealing acts away from other labels by offering them more money than anybody else. That's yesterday's record business. We don't believe in bidding. We don't want to be viewed as another great rip-off company.
"If a guy comes in to us, gets an offer and then says 'I could get $20,000 more from Columbia,' we say 'Good luck on Columbia man. I think we could do a better job and in the long run sell more records for you, but if the quick buck is where you're at… have a good time on Columbia.'
"After all, it's the record company that takes the first gamble. Somebody comes in off the street, sends a tape or gets discovered in some bar… it's just like rolling dice in Las Vegas. But you don't stand anywhere near the same odds. This time, they're all against you. You finally click with somebody and who looks back to say 'That record company sure took a big chance'? Nobody. It's only 'Look at all the money they're making.'"Fenter pulls a hand through his curly black hair and pauses to re-evaluate. "I don't mean to sound too hard-line," he says.  "I'm proud of everything we've got. I couldn't be prouder. We've known some fine people who've turned us onto some fine bands. At the same time, we been open-minded, careful, tasteful and choosy."
The Finest Guitar
Perhaps a perfect illustration of that tasteful care is the manner in which Capricorn has posthumously treated Duane Allman. The excellent An Anthology was released two years ago to overwhelming critical and commercial acclaim. While a follow-up wasn't originally planned, a superbly selected second album has been prepared for August release.
"Right at the beginning," says Fenter, "when we put out the first anthology, we tried not to make it an Allman Brothers album. You know, for all the publicity Duane got in whatever way he got it, he never really got the attention that Clapton gets or that Hendrix got. His work with The Allman Brothers Band is known, but the earlier work was just totally obscure. We thought that, historically, those works should be made available. You can't ask people to buy fifty albums. And who would know Duane was on them anyway, because on most albums he isn't even credited. On this new album there's even a song he sings, called 'Happily Married Man.'
"We were left with a whole lot of tracks after we'd finished the initial double-set. There was a live version of 'Midnight Rider' where he plays licks that would put a lot of guitarists to shame today. That's on the new one, too. If you're into guitar-playing, these albums will show you every side to what I personally think was the finest guitar player to have ever lived. And don't forget I'm from England."
The desk phone rings. Fenter snaps it up. The several-minute-long conversation concerns a single of some sort. "Boy," he sighs, hanging up, "that's one tight band up there in Philadelphia. Duke Williams and the Extremes. You see, we're putting out a new single 'I Don't Want To Smile.' And we did an edit on the track that, well… the group doesn't like to much. But it's the only edit we could have done to give them a crack at the Top 40 listeners. I've given them several shots at singles before, now it's my turn. And if I'm wrong, I'll be the first one to fly to Philadelphia and say I'm wrong.'"
Capricorn Records, it seems, like Frank Fenter, just may have found the perfect balance between love, respect, and Billboard.
Courtesy of Circular – Cameron Crowe – August 12, 1974