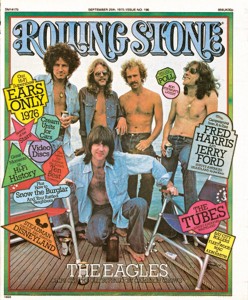 Cameron reflects on his 1975 Rolling Stone Eagles cover story just ahead of its 40th anniversary. He discusses his first encounter with the band in 1972 (for The Door) and his unprecedented access for the '75 piece. Enjoy!
Cameron Crowe Looks Back on His 1975 Eagles Cover Story
Writer-director recalls unlimited access he enjoyed during research of definitive piece on California rock icons
"Take It Easy" had only been out a few months in the summer of 1972. I was a big fan of the song, and was still in high school when the Eagles came to the San Diego Civic Theatre. They were the opening act on a bill with Procol Harum and Cold Blood, and the Civic Theatre was a few blocks from my house. I bought a ticket, and brought my tape recorder. The idea was to slip backstage and talk the band into an interview for a local underground paper, The San Diego Door.
The Eagles opened the evening without an introduction. The lights lowered, and they began with an a cappella version of "Seven Bridges Road," quickly adding instruments and swinging into "Take It Easy." They were fierce and joyful, playing with all the piss and vinegar of a young band hitting its early stride. I slipped backstage with my photographer friend from high school, Gary Elam, and asked their road manager if I could interview the band. They were eager to talk. Don Henley, Glenn Frey, Bernie Leadon and Randy Meisner all hung out in a tiny dressing room and spent hours detailing their history and their dreams of hitting the big-time. "If you like us, you should check out our friend Jackson Browne and John David Souther," Glenn Frey said excitedly, clutching a long-neck Budweiser. They posed for a photo by the amps, arms around each other, and we exchanged phone numbers. I stayed in touch with them. (Little did I know, that fuzzy group shot would be one of the only known photos of all four original members hugging each other. Looking at it today, it has the same slightly surreal quality of one of those photos of the Loch Ness Monster.)