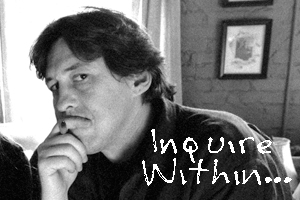 Welcome to another edition of Inquire Within… Through your submissions, Cameron will answer your questions in his own words.
Leah Greenwood (Raleigh, NC): The first time I saw it, in the theater while in college, I walked out and decided to change my major.  Almost Famous (and therefore you) are single-handedly responsible for my renewed focus on writing/English/journalism.  What movies changed you? Shaped you?  Winds up in your DVD player every month?

Cameron: Thanks Leah.  I hope you stuck with it — journalism needs you.  It's still a living, growing and important field… whatever the format, print or blog or online.  Nothing beats the importance of details, and the discipline that comes from checking facts.  Sometimes in the immediacy of online blogging, details sadly go out the window. But truth always still reads like the truth, and if you're in doubt, the NY Times or The New Yorker and a number of other hallowed
publications are still touchstones for the timeless kind of journalism that will always need a home.
I was changed by a bunch of films and books.  The works of journalists Seymour Hersh and Jonathan Alter are simply great, as are the absolutely gripping Robert Caro books on Lyndon Johnson.  Most recently, Bob Dylan's reinvention as an author and even a DJ (Bob Dylan's Theme Time Radio Hour) are big in my house.  Movie-wise, Carnal Knowledge is a timeless inspiration, along with the movies of Preston Sturges, and Wes Anderson, Jean Renoir especially Rules of the Game, Truffaut's Day for Night, Stolen Kisses and of course, The 400 Blows.  Spike Lee's first three films are still amazing, Woody Allen's Midnight in Paris is a reminder of a great writing and directing voice still in play… and Judd Apatow's Knocked Up and 40 Year Old Virgin are aces for combining humor and wild surprise, and always a strong beating heart. And don't forget Mr. Wilder and Mr. Ashby.
Please send in your questions for Cameron and maybe yours will be part of a future installment of Inquire Within…